Village Voice shuts down after 63 years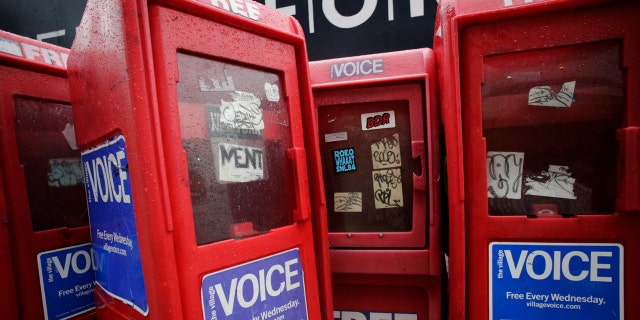 NEWYou can now listen to Fox News articles!
A year after halting its print publications, the infamous weekly The Village Voice is folding due to financial woes, ending a 63-year run.
Publisher Peter Barbey made the announcement on Friday, saying that the now digital-only publication is shutting down because of finances and that most of the 18 remaining staffers have already been laid off.
"Today is kind of a sucky day," he told staff members.
The Voice was the country's first alternative newsweekly, founded in Greenwich Village in 1955 by a group that included writer Norman Mailer. It once had a weekly circulation of 250,000 copies and was home to some of New York's best investigative journalists and music writers.
The combative, left-leaning paper became known for its brash political reporting and its coverage of music and theater. It also became a powerful advocate for New York's gay community.
It won three Pulitzers, for editorial cartooning and feature writing in the 1980s and for international reporting in 2000 for a series on AIDS in Africa.
Barbey, also president of the Reading Eagle newspaper in Pennsylvania, bought The Voice in 2015 in an attempt to save it following a series of ownership changes, staff departures and losses in readership and advertising that had left it, like many other newspapers, in a state of perpetual peril.
He tried to stem the paper's losses by giving up print publication last summer and publishing online only — a step that removed The Voice from the sidewalk boxes that were a fixture on New York street corners for generations.
The move, however, failed to stop the financial bleeding.
The Associated Press contributed to this report.