Tori Spelling: From super-rich Hollywood daddy's girl to overwhelmed, struggling reality star
As the daughter of famed TV producer Aaron Spelling, the creator of megahits like "Charlie's Angels" and "Dynasty," Tori Spelling was born into one of Hollywood's richest and most famous families. She even grew up in the biggest mansion in Los Angeles, a 123-room, 56,000 square foot monster that her dad built on Bing Crosby's old estate and dubbed "The Manor."
Given her unbelievably lavish upbringing, Spelling could not have foreseen her life now, living in a modest home, scraping for roles, living with a husband who has admitted to being unfaithful, and seeing her name in the headlines for all the wrong reasons. The details of Spelling's tumultuous story read like a Hollwyood script, painting a complicated picture of a life filled with obstacles, missteps, heartache, and resiliance.
Silver spoon childhood
Spelling got her big break in her role as Donna Martin on the hit Fox teen series "Beverly Hills, 90210." However, unlike the rest of her castmates, her part on the show came with a big asterisk. Her dad was at the helm of the show.
With her father in a position of power, she was the first to admit that she had a much easier time getting her big break than others. However, she says that it was her hard work that brought the Donna character from a supporting role to a leading one.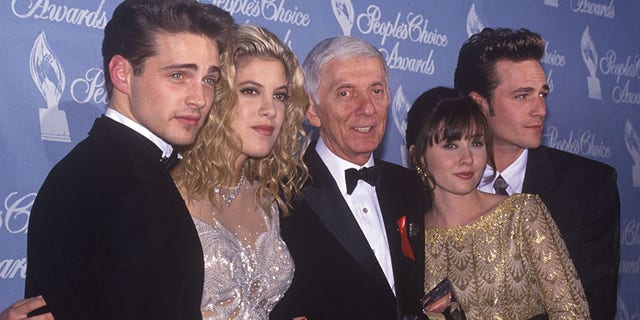 "I heard about the show from my agent. She said, 'Your dad is doing it.' I was like, 'I haven't heard anything about it.' I popped into his briefcase when he got home, and I was like, cool," she told Entertainment Weekly in 2000. "I really wanted to play Andrea. I went in under a different name, then I got the part of Donna — which I'm sure had something to do with my dad."
Because the show was a serious success, running 10 seasons, Spelling said that financially she was largely on her own, and having fun being rich and famous in her own right.
Overspending overload
After "Beverly Hills, 90201" wrapped in 2000, her life of never having to worry about money or think twice about her expensive tastes began to take a toll.
"It's no mystery why I have money problems. I grew up rich beyond anyone's wildest dreams. I never knew anything else. Even when I try to embrace a simpler lifestyle, I can't seem to let go of my expensive tastes. Even when my tastes aren't fancy, they're still costly. I moved houses to simplify my life, but lost almost a million dollars along the way," she wrote in her 2013 book "Spelling It Like It Is."
Despite her father's wealth, Spelling says she refused to ask for his help when times got tough.
"That means, in my mind, [that] I was what everyone thought I was, taking money from my dad, the rich little girl that he paid for everything," she told ABC News in 2008. "And I refused to be that. [I would] rather be bankrupt."
In order to make ends meet, she began taking on a slew of bit parts in films like "Scary Movie 2" as well as made-for-TV movies such as "A Carol Christmas," "Family Plan," "Hush" and more.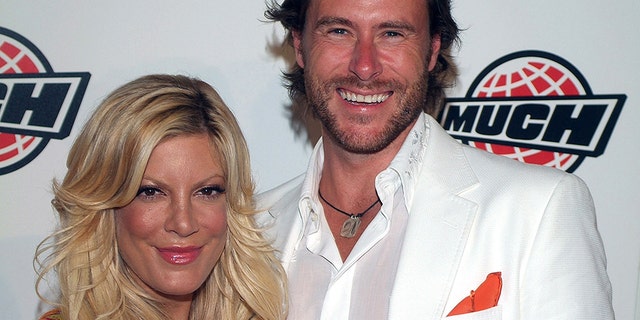 Relationships gone awry
With at least one foot still in the Hollywood limelight, Spelling married Charlie Shanian in 2004. The marriage, however, would not last long.
While working on the set of the film "Mind Over Murder," she met her now-husband, Dean McDermott. Spelling has previously admitted to sleeping with McDermott on the night that they first met, despite the fact that they were both married at the time. It didn't take long for their secret to get out.
"Fifteen months into my marriage, I opened the National Enquirer to see pictures of what appeared to be my wife giving another man a lap dance," Shanian told GQ (via E! News) in 2007.
The marriage quickly dissolved and Spelling re-married, tying the knot with McDermott in 2006, just two years after her wedding to Shanian. Later that year, Spelling would be rocked by the death of her father and the subsequent inheritance scandal that many believe solidified her financial troubles to this day.
Daddy's will
The famed TV producer's estate was estimated at roughly $500 million. As a result, the public was shocked to discover that Tori Spelling and her brother, Randy, only received about $800,000 after taxes. The rest went to their mother, Candy Spelling. By this time, Tori was estranged from Candy and had been determined to live on her own dime for years. Despite the relatively low sum left to her from her father's estate, Tori insists she had previously discussed the situation with him.
"It was a hard conversation to have with him. I didn't want him to think that I was asking him for the money, or even talking about something so morbid as when he would pass. But I thought it was a conversation I needed to have … for myself and for my brother," she said in the same 2008 interview. "We had lunch and he said, 'You're gonna be OK. I made sure. You're getting just under a million.'
"I think part of me, in the back of my head, maybe hoped it would be different? But I hated myself for hoping it would be different, because I didn't want to take advantage, I didn't want to be that girl who needed, or wanted, my dad's money."
With debts mounting from self-admitted overspending, Spelling's financial issues only got worse as she welcomed the first of what would eventually become five children with McDermott in 2007. Additionally, he brought a child from a previous marriage into her life as well.
Tori doesn't often open up about her mom's financial help, but when she was sued by American Express over failed payments amounting to roughly $38,000 in 2016, Candy told TMZ that she helps her daughter financially with necessities, but does not help her with extravagances.
"I've been helping her out. I'm paying all her bills now," she told the outlet at the time. "Except I'm not paying extras like that. No, I'm not paying any back payments. Just for the house and the kids school and the food, that's all."
"I'm paying all her bills now"
Taking her troubles to TV
It was clear by 2007 that Spelling had to build a career out of more than made-for-TV-movies. That's when she turned to reality television.
She first began with the VH1 sitcom "So Notorious" in which she played a spoofed version of herself. From there, she pivoted to full-on reality TV with her husband as cameras documented the pair operating a bed and breakfast in "Tori & Dean: Inn Love" (later titled "Tori & Dean: Home Sweet Hollywood"). This series lasted until 2012 and led to a short-lived spin-off, "Tori & Dean: sTORIbook Weddings." She also agreed to reprise her role as Donna in the 2008 reboot of "90210."
The reality TV work kept Spelling in show business, but the family continued to be plagued with financial struggles. In 2014, E! News reported that the state of California hit the couple with a tax lien for $259,108 relating to unpaid state taxes. In 2011 they sold their home at a loss. Additionally, her lawsuit with American Express came in 2016, and McDermott found himself narrowly avoiding jail time after failing to pay his ex-wife agreed-upon child support.
"My husband and I work really hard. I'm constantly out there working. It's so important for my children to see that both their parents are working," Tori said at the time. "And we talk to them about it."
Cheating scandal
In 2013 it came to light that McDermott had an affair with Emily Goodhand while he was working as the host of "Chopped Canada" in Toronto. He went to rehab for substance abuse and sex addiction and Spelling ultimately decided to stay with him, forcing the reality couple into the public eye.
The actress told People in 2016 that she felt she had no choice but to go public with the circumstances of their reconciliation in another reality show, "True Tori."
"This wasn't going away. Everyone said, 'This happens all the time. Look at all the A-list celebrities. They used to complain about it. Then they go on and do a big movie, and it just goes away.' That's not my life," she said. "That's not my relationship with my fans. I'm not the type that can just go from talking about everything and then it's like, 'No personal questions,' the next time I do something."
By 2017, Spelling was a mother of five with a husband who she'd only recently reconciled with after a contentious healing process that was all captured on camera. Publicly, she was not above letting her fans know that she was overwhelmed.
"I feel so responsible for so many people and I can't do it. [I can't handle] the responsibility of having to take care of so many people financially, the fear of that," Tori said on her 2014 reality show. "[It] doesn't matter. I know people look at me and they're like, 'Oh, poor you.' Like, 'Boohoo, you have so many problems.'"
Comeback kid?
Spelling's responsibilities may have finally caught up with her this month in the form of two back-to-back interactions with police. Officers left both scenes without incident, but sources said that an emotional breakdown may have been the culprit in both situations. However, rumors that the couple are on the rocks once again were put to bed after Us Weekly snapped a photo of the two engaged in some heavy PDA on the set of "Sharknado 6."
In a stroke of odd timing, Spelling posted a photo to Instagram in the midst of all the negative reports to announce that she is hoping to reunite with her "90210" costar Jennie Garth for a new CBS series loosely based on their characters. According to reports, they'll be playing exaggerated versions of themselves. Other plot details aren't yet known.
Reps for Spelling did not respond to Fox News request for comment.