Tom Arnold filing police report after alleged altercation with Mark Burnett at pre-Emmys party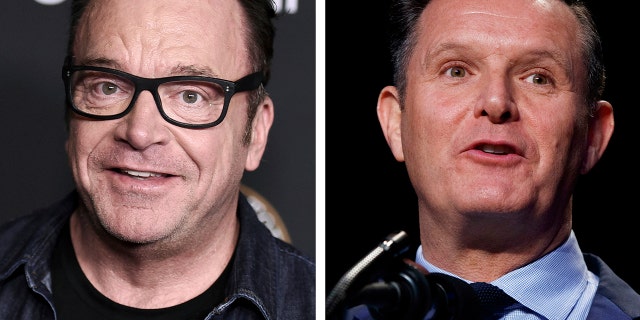 NEWYou can now listen to Fox News articles!
Tom Arnold tweeted Monday that he is filing a police report against producer Mark Burnett after alleging the previous night on social media that they'd gotten into a physical confrontation at a pre-Emmys party.
Arnold took to Twitter to accuse the former "Apprentice" producer of choking him.
"Sitting in West LAPD filing charges against your best bud Apprentice Outtakes Mark Burnett who lost his mind, attacted & chocked me last nite at Katzenberg's Night Before The Emmy's Party. Last fight I got into there was with Harvey Weinstein. Mark Burnett is scared:) #TrumpTapes," Arnold tweeted in response to Donald Trump on Monday.
Arnold also claimed that actor Kevin Bacon -- and Bacon's daughter Sosie -- witnesses the alleged altercation. A rep for Bacon did not immediately return Fox News' request for comment.
Burnett's wife, Roma Downey, posted a picture on Twitter that she said showed a bruise on her left hand from the alleged confrontation.
"Got this bruise tonight when Tom Arnold tried to ambush my husband Mark and me at a charity event. Is your TV show worth it Tom? Please stop," she posted. Arnold responded to the tweet that he is filing a police report and "suing you for defamation."
A rep for Burnett did not return Fox News' request for comment. He has not tweeted out about the purported encounter.
Matthew Belloni, the editorial director of The Hollywood Reporter, tweeted that he spoke to Arnold's attorney, who called the confrontation an "unprovoked attack" by Burnett.
TMZ reported Monday that Arnold charged at Burnett and Downey as soon as the actor saw them at the party. Arnold reportedly pushed Burnett who pushed him back and that's when Arnold ripped Burnett's crucifix necklace off of his neck.
Vice announced that Arnold would be featured in a new show called "The Hunt for the Trump Tapes" and would investigate rumored recordings of the president.
The eight-episode series follows Arnold as he searches for rumored recordings of Trump that are said to be potentially damaging. He interviews stars like Arnold Schwarzenegger, Penn Jillette, Judd Apatow and Rosie O'Donnell, as well as former White House Communications Director Anthony Scaramucci.
Arnold has claimed that Trump has used the N-word and is "obviously a racist," adding that the president's take on the NFL is because "he doesn't like black guys."
Arnold has been focused on Burnett, who is behind successful series such as "Shark Tank" and "The Bible."
"I am going to keep hammering Mark Burnett until he shows America [the tapes]," Arnold said at the Television Critics Association's Summer Press Tour in July. "He sits next to Donald Trump and gives him cover and he never says one word. People are at the border. They are getting their kids snatched from them. It's cruel… and Mark Burnett says he's a Christian."
Fox News' Edmund DeMarche contributed to this report.