Todd Palin Could Be Next on 'Dancing With the Stars'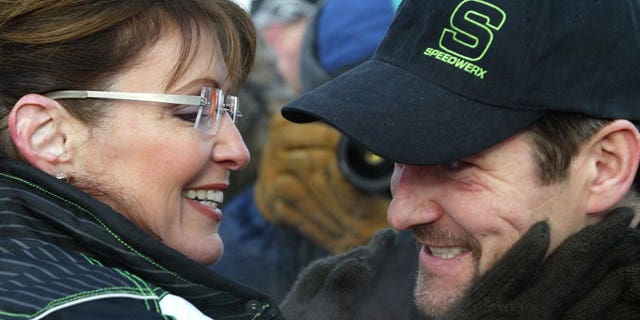 After Bristol Palin brought 'Dancing With the Stars' unprecedented buzz and ratings, it sounds like the show's producers are dying to go back to the Palin well.
This time, they want Bristol's dad.
"They want him big time," a source told E! Onlione. "They'd love Sarah, but they don't think that will ever happen, so why not go for the dad."
The show is also after another politician's daughter, Meghan McCain, as well. Which would mean, if producers have their way, that family members of the 2008 GOP Presidential ticket would be instead be competing against one another.
Weird.
Jennifer Grey was named this year's "Dancing With the Stars" champ, but Bristol Palin was the season's big story.
Palin's run to the finals was full of intrigue. The show's most improved dancer, Palin was nonetheless maligned for being the least talented dancer of the final three, especially when she beat the singer Brandy after she received perfect scores for her dance.
Brandy's dance partner dancer Maksim Chmerkovskiy didn't hold back.

"This season has just been ridiculous since day one. We almost felt like the effort wasn't worth it," he lamented to E! Online. "It just feels like it was an uphill climb the entire time and to really come that short of the finale. It's just upsetting."
Chmerkovskiy also weighed in on the alleged right-wing conspiracy theory that's keeping Palin on the show.
"I definitely think that the system is flawed. I think there are a lot of problems with it," he continued.
The "DWTS" hosts said there was no foul play or technical errors contributing to Palin's prosperity, and that the Alaskan native had simply impressed American audiences wither her dramatic dancing improvement.
"My thoughts really are, America's voting and it's a very legitimate system. Judges scores count for half and America makes up the other half," Brooke Burke told the Foxnews.com Live webstreaming show. "She's grown the most; she went from barely being able to move those hips to now being able to get through a full Paso and it doing with vengeance."
VIDEO: Brooke Burke on Bristol Palin Brouhaha.
Burke's co-host, Tom Bergeron, was also less-than-impressed with those who speculated that Palin's survival was a result of sabotage.
"I'm a liberal Democrat, and I state that proudly. But I have no patience with my friends who believe there is a conspiracy keeping Bristol on the show. They'll say, 'Oh, well! She's still on the show! She's obviously not the best dancer! She gets the lowest scores!' I'll say, 'OK, right. So who did you vote for instead of Bristol?' 'Uh, well, I don't vote!' 'Well, then, f**k you,'" he griped to Movieline.com. "I have no patience for that! If you don't participate to create a different outcome — and this can be true in national politics or a TV reality show — then don't piss and moan if you don't like the way it's playing out. I think Bristol is clearly not the best dancer here, but she's a charming young woman who's shown an incredible growth from week one to this week."