Tiger Woods' Mea Culpa Plans Draw Criticism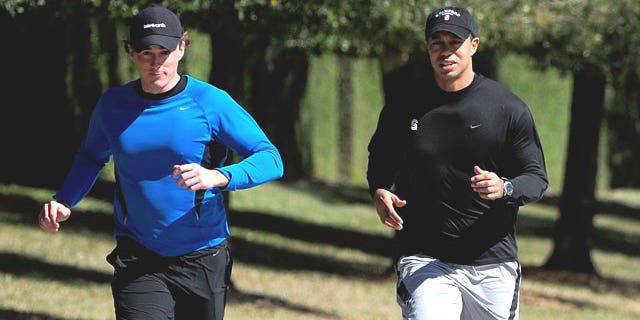 Tiger can run, but he's done hiding.
Tiger Woods' camp broke a nearly three-month silence yesterday to say he will finally emerge from his secluded den tomorrow to publicly apologize for his rampant philandering and announce his imminent return to golf.
But in a clear-cut message that this Tiger isn't changing his "control-freak" stripes, Woods, 34, is stubbornly refusing to take any questions about his horn-dogging from the few handpicked reporters he is allowing to attend his appearance at PGA Tour headquarters in Ponte Vedra Beach, Fla.
SLIDESHOW: Elin Nordegren: From bikini model to billionaire's wife.
And he is expected to talk for a mere five minutes during an event that will draw worldwide attention.
It's not clear if Woods' wife, Elin Nordegren-- whom he serially betrayed with porn stars, prostitutes, party girls and pancake-house hostesses -- will be standing by her man when he opens his mouth.
FOX411: Should Elin Nordegren Pull a Silda Spitzer?
Fox Business News reported that Woods plans to return to golf "within days" -- setting himself up for a possible appearance in April at the Masters tournament, which he has won four times.
"Tiger Woods will be speaking to a small group of friends, colleagues and close associates at 11 a.m . . . at the TPC Sawgrass Clubhouse," said a statement issued by Woods' management team
His appearance will come on the heels of his release from a sex-rehab center in Mississippi.
SLIDESHOW: The women linked to Tiger Woods.
"Tiger plans to discuss his past and his future and he plans to apologize for his behavior," the statement said.
"While Tiger feels that what happened is fundamentally a matter between he and his wife, he also recognizes that he has hurt and let down a lot of people who were close to him," the statement said.
"He also let down his fans. He wants to begin the process of making amends, and that's what he's going to do."
YOU DECIDE: What Should Tiger Say?
In a clear slap at Accenture -- the first major sponsor to dump Woods over the scandal -- Tiger scheduled his appearance for a time when it will upstage the Accenture Match Play Championship in Arizona.
NYU sports-management professor Robert Borland said, "He has got to get back and play golf or else he would truly be in breach of the contracts he's held onto. A prolonged absence from the tour would really give them a reason to dump contracts with him."
A surprisingly pudgy Woods yesterday looked to be trying to strip off a few extra pounds in preparation for his pseudo-press conference, as he was photographed jogging with another man inside his private compound in Orlando, Fla.
It was the first clear photo of Woods since his mysterious Nov. 27 car crash -- and, as has been the case with Elin since then, Tiger was not wearing a wedding ring.