Theranos employees caught shooting at reporter who exposed company in homemade video game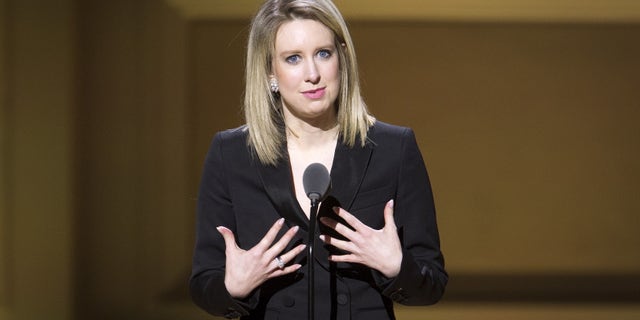 Theranos Inc. employees were caught playing a "Space Invaders" style video game in which they shoot the reporter who is often credited for exposing the once-promising Silicon Valley startup.
Theranos once claimed it was on the path to modernizing the medical-lab business, with low-cost tests it claimed could be performed with tiny samples of blood. CEO Elizabeth Holmes' company is now circling the drain and many point to Wall Street Journal reporter John Carreyrou, who revealed the company was misleading people about its technology with a series of bombshell reports starting in 2015.
It appears some employees hold a grudge.
Business Insider obtained and published footage of employees playing a homemade videogame in the Theranos manufacturing facility where they shoot little pictures of Carreyrou's head. The game is being played on a large screen and whoever leaked it reportedly told Business Insider that it was filmed "a while ago."
Carreyrou has taken the game in stride, tweeting images of it and saying that he asked the game's creator for a copy. A screenshot he tweeted showed the game is officially titled, "Haters Gonna Hate v1.5."
"The video indicates that people played the game a lot — just look at the lengthy high score," Business Insider's Kif Lewsing observed.
Business Insider also reported that employees of Theranos, which was once valued at $9 billion but won't exist much longer without additional funding, chanted "f--- you, Carreyrou" at a staff meeting.
"At a company party, Theranos employees played a video game modeled after Atari's Space Invaders: The gun was the miniLab, the bullets the nanotainers and the invader being shot at: Yours Truly," Carreyrou tweeted before Business Insider obtained the footage.
He continued: "The black gun at the bottom is the miniLab and the other breed of invader in purple is the Zika virus!"
Holmes famously enlisted superstar attorney David Boies to threaten legal action against the Wall Street Journal at the height of Carreyrou's reporting.
"Carreyrou continued to try to secure an interview with Holmes, and for four months he was continuously threatened," Vanity Fair reported in 2016. "As Carreyrou reported, the company was hawking a tale that was too good to be true."
Carreyrou has also written a book about the Theranos scandal, titled "Bad Blood: Secrets and lies in a Silicon Valley startup," that is scheduled to hit bookstores on May 21. However, Carreyrou informed his followers that the book's first edition won't include anything about the videogame.