'The Wire' actor Anwan Glover stabbed in Washington DC club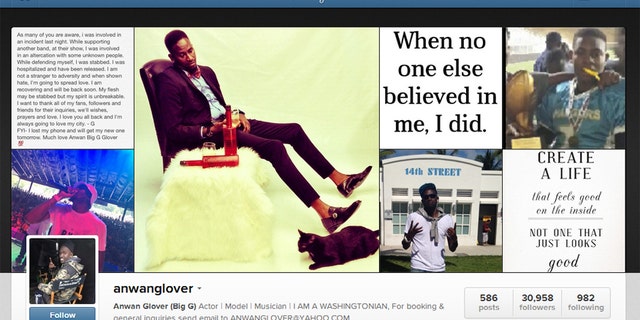 Anwan Glover, best known for playing gangster Slim Charles on the acclaimed drama "The Wire," was stabbed at a Washington D.C. nightclub early Sunday.
Glover's manager, Tiffany Turner, confirmed that the actor and musician was attacked by several unknown people at an event following a performance by his musical group at a concert venue in Columbia, Md. According to a police report seen by The Washington Post, Glover was treated at George Washington University Hospital for a laceration on the right side of his torso. His condition was not immediately released.
Glover claimed that he was standing on the second floor of the Cafe Asia club when an unknown person punched him. When he turned to face his assailant, another person punched him in the back of the head, causing him to slip and fall. While he was on the floor, Glover claimed he was kicked several times before hearing someone shout "he has a knife" and feeling a sharp pain in his side.
"Anwan is no stranger to challenges and struggle, he has overcome many," Turner told MyFoxDC.com. "It is unfortunate that a 'man of the people' or anyone for that matter, cannot attend events without the possibility of injury just by being a bystander."
Glover was born in the nation's capital and lives in suburban Upper Marlboro, Md. The Post reported that he was shot 13 times while growing up in the District's Columbia Heights neighborhood.
Glover most recently appeared in the film "12 Years A Slave," which won the Academy Award for Best Picture.
Click for more from MyFoxDC.com.