The Thin Line Between Curb Your Enthusiasm and Seinfeld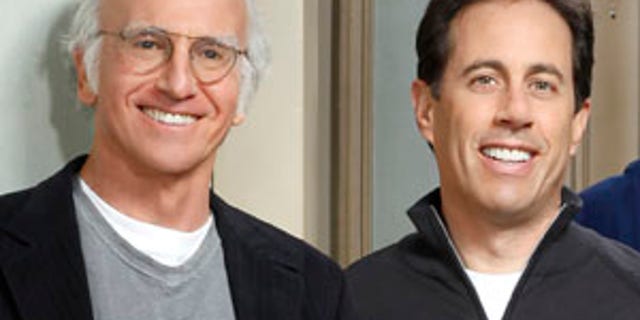 Seinfeld, the iconic sitcom about nothing, and Curb Your Enthusiasm, the brilliant HBO series about the man who co-created Seinfeld, have always been closely linked. But if you think the similarities between the two shows begin and end with Larry David, think again. In anticipation of Curb's TV Guide Network debut, we look at just a few of the connections between the two shows.
George Costanza: Larry is the inspiration for George. In the Season 7 finale of Curb, Larry even dons George's glasses and sweater vest when actor Jason Alexander drops out of the Seinfeld reunion.
"Pretty, pretty, pretty": Larry often used this phrase, which later became a signature Curb line, when playing the often-heard-but-never-seen George Steinbrenner on Seinfeld.
Watch videos of Curb Your Enthusiasm
The Michael Richards incident: In 2006, the actor who played Kramer infamously used racial slurs during a comedy show. During the Seinfeld reunion on Curb, Richards references the event by screaming at African-American actor J.B. Smoove: "If only there were a horrible name that I could call you that would make you as angry as I am!"
Failed show-within-a-show: On Seinfeld, Jerry and George shops the fictional sitcom Jerry! to NBC before George's obvious lust for a network executive's 15-year-old daughter kills the deal. On Curb, Larry develops a show with Julia Louis-Dreyfus, which dies when Larry offends an ABC executive's daughter by cutting her doll's hair.
The doll: The aforementioned episode is called "The Doll," which is also the title of an episode of Seinfeld, in which George discovers his fiancée, Susan, has a doll with an uncanny resemblance to his mother.
Check out photos from Curb Your Enthusiasm
Death on the golf course: On Seinfeld, Kramer feels he inadvertently caused a stranger's death by getting into a golf-course argument with the accused murder right before the crime. On Curb, Larry is accused of killing fellow county clubber Norm by yelling at him on the golf course right before he dies of a heart attack.
Guest stars: Christine Taylor and Kathy Griffin have both played themselves on Curb, but on Seinfeld, Taylor played a girlfriend of Jerry's with no friends, and Griffin played Susan's college roommate. Brenda Strong played Elaine's friend who gets married in India on Seinfeld, and on Curb played a foot doctor who briefly dates Larry.
Curb Your Enthusiasm renewed for eighth season
Bathroom for one: On Curb, Larry gets a friend's nanny fired by insisting the nanny let him use a private bathroom. On Seinfeld, George is forced to quit his job after getting in trouble for using his boss' private bathroom. (He tries to return to work the following day by acting like nothing happened, just as Larry did when he wrote for Saturday Night Live in the 1980s).
Larry Charles: Seinfeld and Curb Your Enthusiasm have two Larrys in common, the second being Larry Charles. Charles wrote or co-wrote 17 episodes of Seinfeld during seasons 2-5 (including the classic "The Airport"). Charles has since moved behind the camera and directed 13 episodes of Curb, including "The Survivor."
The smoking jacket: On Curb, Larry swaps his dad's smoking jacket with Hugh Hefner's, with disastrous results. On Seinfeld, Jerry gets himself in trouble when he thinks a magician has stolen his Friar's Club jacket.
Let's play house: On Curb, Larry has to pretend to be married to Susie to get Richard Lewis higher on a kidney-transplant list. On Seinfeld, Jerry and his then-girlfriend (played by a pre-Friends Courteney Cox) pretend to be married to get a discount on dry cleaning.
Real or fake?: Larry gets into trouble with Richard on Curb when he advises Richard's fake niece, Kim, to get a boob job. On Seinfeld, Jerry kills his chances with Sidra (Teri Hatcher) when he sends Elaine into a sauna to find out if her breasts are fake. The incident coins one of the show's best one-liners: "They're real — and they're spectacular!"
Watch Curb Your Enthusiasm, followed by Curb: The Discussion, on June 2 at 10/9c on TV Guide Network.
Comment on this article at TVGuide.com >
Related Articles on TVGuide.com
Other Links From TVGuide.com