The Oaks Lily: Official Kentucky Derby food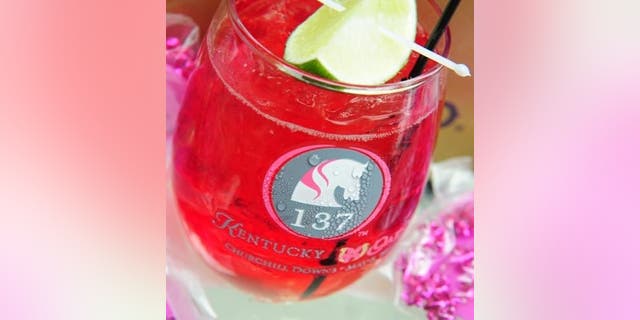 NEWYou can now listen to Fox News articles!
TOMATO CORNBREAD PANZANELLA: FRESH RED ONION, CRISP CUCUMBERS AND ARCADIA GREENS WITH HOMEMADE CORNBREAD
HOT BROWN SMASHER: TURKEY BREAST, MORNAY SAUCE, TOMATO AND BACON, GRILLED AND SERVED WARM ON FRESH BREAD
BREAD PUDDING BITES: BOURBON BREAD PUDDING SQUARES, SMOTHERED WITH CARAMEL AND CHOCOLATE SAUCE
Hot Brown Smasher
Makes 4
1 lb. roasted turkey breast
8 slices applewood smoked bacon
1 cup Mornay sauce (recipe below)
4 thick tomato slices
8 slices Texas toast
- Place 4 oz. sliced turkey on one piece of Texas toast and top with a slice of tomato, ¼ cup Mornay sauce and two pieces of bacon. Place second piece of Texas toast on top.
- In a hot skillet or sandwich press, heat up sandwich until bread is golden brown. Slice in half and serve immediately.
Mornay Sauce
Makes 1½-2 cups
3 tbsp. butter
1 tbsp. finely chopped onion
3 tbsp. flour
½ tsp. salt
⅛ tsp. ground white pepper
1 cup chicken broth
½ cup light cream or half-and-half
½ cup grated Parmesan cheese
½ cup shredded Swiss cheese
- In a saucepan over medium-low heat, melt butter. Add onion and cook until wilted, about 1 minute. Add flour, stirring until well-blended, then stir in the salt and pepper.
- Gradually stir in the chicken broth and cream. Cook over low heat, stirring constantly, until smooth and thickened. Continue cooking, stirring, for 5 minutes. Stir in the cheeses and continue cooking and stirring until melted.
Bread Pudding Bites
2 cups sugar
1 quart whole milk
4 eggs
½ tsp. cinnamon
½ tsp. cocoa powder
2 oz. bourbon
12 slices day-old bread
Equal parts cinnamon and sugar
- Preheat oven to 350 degrees. In a stainless steel or glass mixing bowl, whisk sugar, milk, eggs, cinnamon, cocoa powder and bourbon until thoroughly combined.
- Rip bread into small pieces and place in a well-greased baking pan. Pour the custard over the torn bread and allow to soak in for a few minutes.
- Cover bread pudding tightly with parchment paper and heavy-duty aluminum foil and bake for 20 minutes, then gently shake the pan. If there is still movement of the ingredients, bake covered for 5-10 additional minutes.
- Cool bread pudding in refrigerator, uncovered. Once chilled completely, remove from baking dish and, on a cutting board, cut into 1-inch cubes.
- Deep fry the bread pudding at 350 degrees in a countertop deep fryer until golden brown and crispy, about 1-2 minutes. If you don't have a deep fryer, fill a pot with oil and heat over high heat until bubbling, then drop in the bread and cook until golden brown and crispy, about 1-2 minutes.
- While bread pudding bites are still hot, toss in a large mixing bowl with cinnamon and granulated sugar. Serve hot.