The Internet goes wild over Susan Sarandon's cleavage at SAG Awards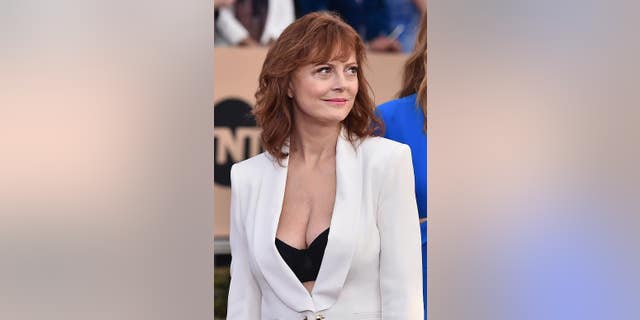 Susan Sarandon had the Internet in a tizzy on Saturday night over her outfit that revealed her ample cleavage.

Sarandon displayed her chest in a sateen double-breasted suit by Max Mara.

The 69-year-old actress was accompanied to the award show by her daughter, Eva Amurri Martino, and son, Jack Robbins.
Click here to subscribe to FOX411's YouTube channel

Sarandon, who was nominated for "The Secret Life of Marilyn Monroe" and presented the in memoriam segment, had social media users furiously tweeting about her revealing outfit.
However, the Oscar-winning actress is blase about all the attention.
"She really does not see what the fuss is all about," reports Rob Shuter of naughtygossip. "Susan looks and feels great and finds it funny that everyone is talking about her. Would she wear this to go and get milk and eggs – no! But it was an award show and she loves this sexy look."
Even Kate Winslet seemed impressed by Susan Sarandon's cleavage as evidenced by her slightly amazed reaction in a fun snap with actor Michael Shannon.
Sarandon's daughter Amurri posted this fun shot of them about to head out to the SAG Awards.