'The Crown' star Matt Smith says Claire Foy deserved equal pay: 'She's the Queen for God's sake'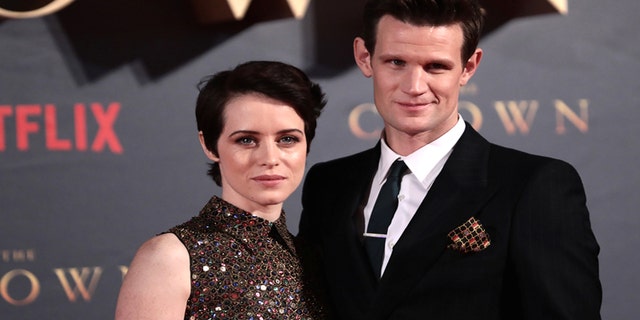 NEWYou can now listen to Fox News articles!
NEW YORK – Prince Philip has always stood by Queen Elizabeth's side, and Matt Smith is no different with his "Crown" co-star and TV wife Claire Foy. The actor, who has played Queen Elizabeth's husband for two seasons, opened up about the show's decision to bridge the pay gap after it was revealed that Foy was paid less Smith for the series.
"I think she should have been paid that originally in the first place," Smith told Fox News at the Tribeca Film Festival premiere of the film "Mapplethorpe," in which the British actor takes on the role of the controversial 1960s photographer.
Smith continued to say that he "absolutely" agreed with the show's decision to make sure that both the Queen and the Prince Phillip characters would be paid equally moving forward, despite the fact that he and Foy's time on the show has come to an end.
"I think everyone has taken a long, hard look at themselves to try and go forward and make it right, but the problem is it happened to too late," he said. "She was the Queen for God's sake. She had the most lines, she worked the most, she had the most days – that should have been what she was paid. But they've made amends and hopefully going forward it's not a problem."
After filming two seasons of the Golden Globe-winning series, Smith formed a tight bond with his co-star, whom he described as his "best friend." When asked what he was going to miss the most about shooting the series, the 35-year-old actor simply stated "Claire."
"Claire is really what I am going to miss the most because we had such a brilliant friendship…" Smith explained.
He then added that he would also miss portraying Prince Philip on screen: "I'll miss that character. Philip was such a brilliant, interesting, difficult man to play and I think these are the characters that you strive for. Also it is brilliant writing and really well produced and really well made, so I'll miss being part of something that is well constructed."
Though "The Crown" will continue on, it will now feature a new Philip and Elizabeth as they age and their story progresses. Smith admitted that he was sad to leave the Netflix production, but was "very excited" for the new wave of actors praising his replacement, "Game of Thrones" actor Tobias Menzies.
"I actually know him because I did a play with him in London. He's not only a brilliant man but he's also a brilliant actor," Smith gushed. "He's absolutely fantastic, so I am quite excited. I am really thrilled for him and I think he's going to be fabulous."
"Broadchurch" actress Olivia Colman will take Foy's place as Queen Elizabeth.