'The Bachelorette' recap: Andi brings men on first round of dates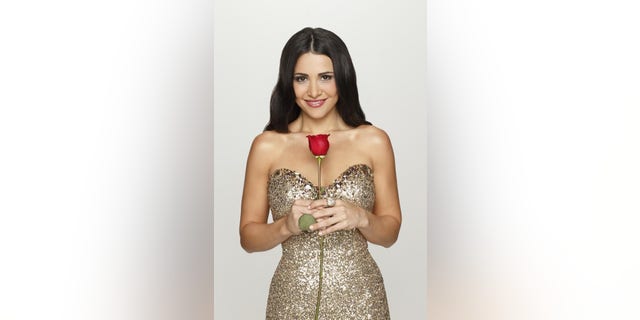 Down to 19 suitors, Bachelorette Andi Dorfman began her first week of dates—and, not surprisingly, the drama started early.
Andi's first date was with Eric Hill, the contestant who tragically died in a paragliding accident in April.
ABC chose to air footage of Eric this season, with host Chris Harrison issuing a statement at the beginning of last week's premiere.
"Eric passed away shortly after concluding his filming on this show," he said. "In the coming weeks, you will see that Eric was a vibrant man. Every day he impressed us with his passion and his courageous spirit. He will be greatly missed and we dedicate this season to him."
On their date, Andi drove Eric to the beach, where they frolicked around in the surf and built a sandcastle.
"My face already hurts from smiling so much," Eric said. "I feel like we've known each other for months already."
From there, the two took a ride in a helicopter, which dropped them on top of Bear Mountain for some snowboarding. Andi gave Eric a rose that night.
Next, Andi took a group of the men to a nightclub for exotic dance lessons, where they later performed in front of a live audience for charity.
"This is a lot to ask for on a first date," Andi said. "I really do appreciate them taking a risk and doing something for a good cause."
Former "Bachelor" contestants Sharleen Joynt and Kelly Travis returned to help Andi judge the men, who dressed as firefighters, cowboys, and a robot to perform their routines in front of a crowd of screaming women.
Despite smooth sailing during the date, the drama began at the after-party, when accountant Craig Muhlbauer got extremely intoxicated.
"Craig is annihilated," Andi said, initially seeming to be understanding. "He's been nothing but nice, so I'm trying to give him a little leeway. We've all drank too much in our day. It definitely happens."
But as Craig proceeded to babble nonsense, annoy the other men and jump into the pool with all of his clothes on, Andi was not impressed.
"It's one thing to be drunk and funny, but understand that you are on a date," Andi said angrily. "They do get that they're here to date, right?"
"Craig is out of control," Josh Murray said. "It definitely put a damper on the night."
"Could everyone possibly be here for the right reasons?" Andi added, using the most cliché line in "Bachelor" or "Bachelorette" history.
Andi eventually decided to ignore Craig and gave the group date rose to Marcus Grodd, an introvert who she said stood out for his bravery during his solo aviator dancing routine.
For her third date, Andi took Iowa farmer Chris Soules on a one-on-one to watch horse racing and ended up giving him a rose at the end of the night.
"Chris was the perfect person to have this date with. I'm so happy right now," Andi said. "Last night was disastrous, but Chris got it back on track."
The cause of that disaster took Andi aside before the rose ceremony to apologize for his drunken antics.
"I have to do something more than apologize because that wouldn't be fair," Craig said, whipping out a guitar and singing an apology to a laughing Andi.
"I've been nervous for the past two days and feeling horrible for what happened," Craig said. "I'm so excited to hopefully get a rose."
But he didn't.
Andi eliminated him, as well as firefighter Carl King and pro golfer Nick Sutter.
"I'm really disappointed right now," Craig said. "I feel horrible for what I did and I lost my chance to be with Andi."
"The Bachelorette" airs next Sunday and Monday night on ABC.