'Teoing' trend hits the internet after Manti Te'o 'girlfriend' scandal makes news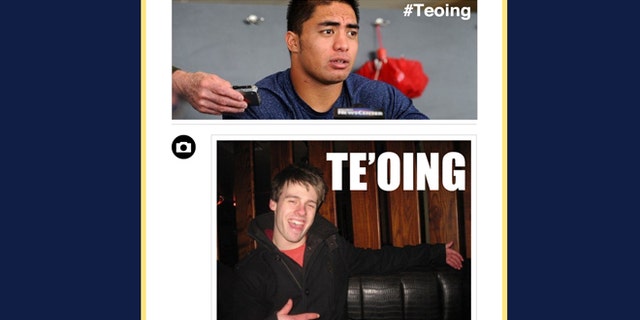 Forget Tebowing! Teoing is the new thing.
Almost immediately after reports began surfacing that Notre Dame football star Manti Te'o's stories of his girlfriend who died in September were untrue, the world of internet memes turned the strange story into the latest trend.
PHOTOS: Users start Teoing after Manti Te'o hoax
A Tumblr page, which went live yesterday, shows user-submitted photos of what the internet is calling Teoing. To create these photos, users put their arm around an "invisible girlfriend" and take a photo.
Some photos also show men pretending to propose to no one.
The photos focus on the fact that Te'o seemingly never met his supposed girlfriend, Lennay Kekua, who he said died of Leukemia.
Chase Reynolds, 26, who created the Tumblr page, told FOX 411 he got the idea after seeing one user tweet a Teoing picture. He said many have since shared the Tumblr link and users have been submitting photos to be added to his site.
"At first I was just grabbing a few from Twitter and then a bunch of people started submitting stuff," he said. "I think a lot of people are getting a kick out of it."
Some users, however, weren't so quick to jump on the Teoing bandwagon.
Reynolds said the response to his site has been positive overall, but some Twitter users didn't see the humor in it.
"Oh come on, this is not nice!" one user wrote about the trend.
"God I feel for him. Now #Teoing is a thing people are doing…" another tweeted.