T.J. Miller reportedly negotiating a plea deal for allegedly calling in a fake bomb threat on a train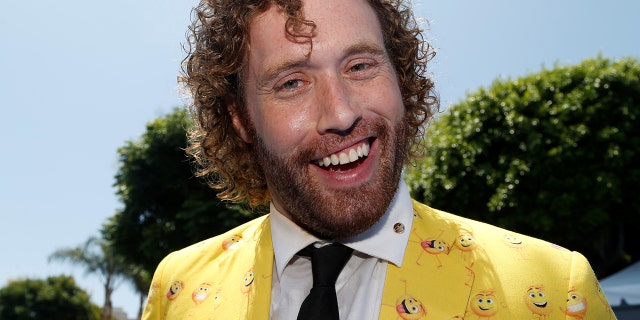 T.J. Miller is reportedly working on a plea deal to avoid a trial after he was accused of calling in a fake bomb threat on an Amtrak train in March.
The comedian and prosecutors have each filed documents obtained by The Blast, claiming the parties are "discussing several matters related to the possibility of resolving the case short of indictment."
The Connecticut district attorney and Miller, 37, requested that Judge Jeffrey Alker Meyer move the actor's next hearing from Sept. 14 to Nov. 30 as they hope to negotiate an agreement that will keep the case out of a jury trial, according to The Blast.
The FBI arrested Miller in April on charges that could carry up to five years in prison in connection with the March 18 incident.
The former "Silicon Valley" star was charged with intentionally conveying to law enforcement false information about an explosive device on a train.
Miller allegedly made the bogus 911 call from an Amtrak train to report that a female passenger "has a bomb in her bag," after the woman rebuffed his "social overture." Bomb squads found no evidence of any explosives, but their investigation caused massive delays. The train originated in Washington, DC, and Miller was kicked off in New York.
Miller was released on a $100,000 bond and ordered to only travel within the US, to not violate any federal, state or local law and to cooperate in the collection of a DNA sample.
Miller's attorney did not immediately respond to Page Six's request for comment.
This article originally appeared in Page Six.