'Suits' star Patrick J. Adams apologizes for body shaming incident after the royal wedding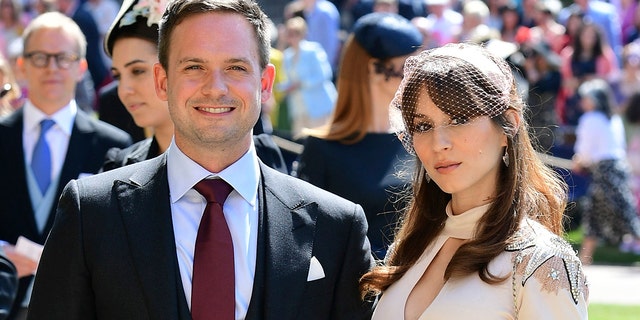 "Suits" star and on-screen husband of Meghan Markle, Patrick J. Adams, is apologizing to his fans for some of his conduct following his attendance at the royal wedding.
In a since-deleted post, the 36-year-old actor shared an unflattering snap of a woman sleeping along with a story about an altercation with her. According to screenshots captured by some tabloids, the woman reportedly saw Adams in a newspaper attending the wedding and chose to tell him that she found the photo of him and his wife "terrible" explaining that he looked "chunky."
When she later fell asleep at the airport Adams shared her image, prompting fans and critics alike to accuse him of body-shaming her in retaliation for her rudeness. After apparently mulling it over, the "Suits" star took the photo down and replaced it with an apology message on Instagram.
"Yesterday I posted a photo of a woman who did some casual body shaming of my wife and I in the airport. My intention was solely to put a face to the people who think that sort of glancing commentary is necessary, helpful or funny. Some of the comments on the post instead said I was being a bully and should have taken the 'high road' (some also doubled down on the body shaming. Thumbs up guys!)" he wrote in the lengthy caption. "I thought it over and agreed and took it down, not because I felt the woman was right or fair or undeserving of being called out but because any sense of being a bully or lashing out felt wrong."
The star went on to explain that he regrets not telling the woman to her face that she was being rude and out-of-line rather than waiting until she was asleep and taking things to the public forum of social media.
"I'm sorry I didn't. I was too shocked and annoyed and Canadian - so I avoided the confrontation. Again, I'm sorry," he wrote.
After calling on media outlets to not share the original photos so as not to further any inadvertent bullying on his part, he concluded with four takeaways from the entire situation.
"1. Don't talk s--- about the way people look. You have no idea what's going on with them and your commentary will always make their day worse not better. 2. If someone does. Don't use the internet to settle scores. Tell them right to their face and in public that they're part of the problem and not the solution. 3. Believe pretty much nothing you read in magazines. Good or bad. The machinery runs on misfortune and oversimplification. 4. Be cool to yourself and others at every opportunity. Life is too short for all of this."