Steve McQueen was plagued with insecurities caused by his troubled childhood, report says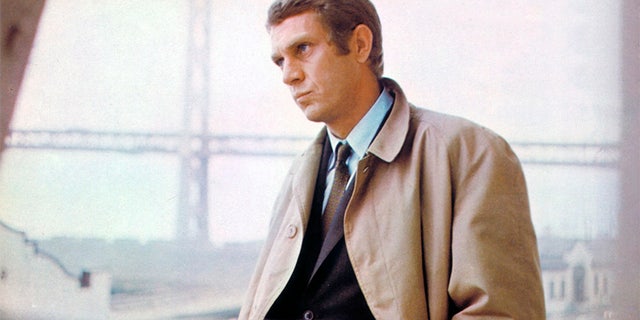 Steve McQueen may have been recognized as "The King of Cool" in Hollywood, but the star may have wanted to give up his reign before his life was cut short at age 50.
Journalist Marshall Terrill, who has written several books on the screen icon and even collaborated with McQueen's widow Barbara Minty on a photo book, recently told Closer Weekly the actor reportedly knew he was sick while on the set of his last film, 1980's "The Hunter."
TESLA RESPONDS TO 'EXTRAORDINARILY UNUSUAL' VIDEO OF THEIR CAR SEEMINGLY CATCHING FIRE
McQueen died that year from a heart attack. The Los Angeles Times reported he was suffering from mesothelioma and was in a Ciudad Juarez, Mexico, hospital for surgery on a massive tumor when he suffered a cardiac arrest.
The publication added that months prior to his death, McQueen underwent a controversial cancer treatment program which included "intramuscular injections of animal cells, large doses of vitamins, an organic diet and the use of frequent coffee enemas."
McQueen spoke to therapist Brugh Joy about the life he had led towards its end. Snippets of that conversation -- reportedly McQueen's last interview -- would later be featured in a 2015 documentary titled "Steve McQueen: The Man & Le Mans."
Terrill said the audiotape, which he was given access to for his research, exposed a lot of McQueen's insecurities.
"He talked about that when he was younger, he didn't receive any love from his mother or father," explained Terrill. "When you don't have that sort of love, you do things to prove to yourself that you're worthy. He talked about the fact he'd done all these crazy things in his youth to prove to himself that he was worthy. Just a lot of looking back and a lot of regrets.
"One of the regrets he'd talked about was, 'I had built friendships about drugs and alcohol,' and he wished he would have built friendships that were based on solid ground instead.
"And he was a moody guy. He was definitely a difficult guy to live with. I talked to two of his wives, and they said that he came from that old school [mentality] where he was the man and they were the woman. They were there to serve him dinner and make love to him at night."
Before the Indiana native found fame on the big screen, he endured a troubled childhood. His father abandoned his mother when he was a child.
The New York Post previously reported his mother was an alcoholic teenage prostitute who found it difficult to look after her son. McQueen soon found himself living with an uncle on a Missouri farm. At age 14, he roamed the streets and headed to Los Angeles where he joined a street gang.
McQueen joined the Marines in 1947 but was honorably discharged in 1950.
"He jumped from job to job, and then he discovered acting," said Terrill. "Well, he had never given acting a thought, but the line that he said was, 'You know, there's a lot of women in acting,' so therefore, it was a way for him to meet a lot of women.
"Then of course, he found out eventually that there was money involved, too. At the same time, this was a street kid who made it big, and then he wanted to know everything that there was about the business so that he could never be taken advantage of."
Women were never lost on McQueen's mind. He would go on to marry three times.
"His three wives took on different roles," said Terrill. "The first wife gave him that emotional support he needed and was the mother to his children, and understood him the best, giving him a long leash. Unfortunately, their marriage ended at the end of the '60s because he wanted to screw around so much and wanted to be free.
"Then Ali MacGraw represents pure, unabashed passion. That's what he had with her, but she was a very smart woman who had her own ideas about things. They were just complete opposites, so they clashed despite their unbelievable passion.
"Then by the time he married Barbara Minty, he had completely mellowed out. Of course, she was almost 25 years younger than he was and he had done this 180. There was no fight left in him regarding women. He had found the woman that liked what he liked, that did what he did, that served him hand and foot. He was at his most peaceful with Barbara."
And there were times when McQueen had considered leaving Hollywood for good.
"He had become a big star and had just gotten burned out of it," said Terrill. "He and [then-wife] McGraw moved to Malibu and he just wanted to get away… He had talked about getting out of the business completely, but I don't think that would have been the case. The money was too good."
By the time he married Minty in 1980, he was thinking about life beyond cameras.
"[MacGraw] represents the Malibu years, which is when he started dropping out of Hollywood," said Terrill. "And then Barbara represents this whole peaceful Steve McQueen where he'd come to peace with himself. Yes, he made a couple of movies, but he was not going to make Hollywood and movies his priority anymore. His priority at that time was just flying planes and enjoying life."
In a 1966 interview, McQueen himself declared his goals and they weren't solely based on getting extra screen time.
"I've leveled off in some respects, plan my business and my career ahead now and try to schedule my work so I'll have time off," said McQueen. "I just want the brass ring and the pine trees and my kids and the green grass. I want to get rich and fat and watch my children grow."
McQueen may have had a conflicting relationship with his fame as an actor. Still, McQueen is celebrated as one of the most important actors in Hollywood's history. And Terrill insisted there are lessons to be learned from his brief, fast-paced life.
"There is just so much legacy there," he said. "But I think the lasting legacy is this individual who represents freedom, who represents pull-yourself-up-by-your-bootstraps. A street kid that made it big. And that's sort of the American dream, isn't it?"