Stephen Colbert says its important viewers don't know his personal political views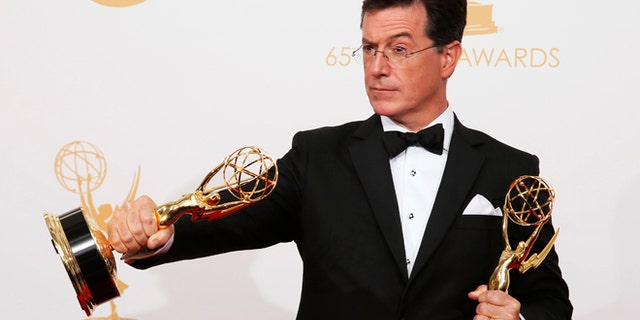 LOS ANGELES – This may come as a surprise too many, but political satirist and comedian Stephen Colbert insists that he makes an effort to conceal his personal politics while hosting Comedy Central's "The Colbert Report."
"We use the show to make jokes, but the jokes are things that we care about because we are writing about the news, and you can't do 160 (shows) a year unless you have some passion of what you are talking about," he said backstage after winning an Emmy for Outstanding Variety Series, responding to a question about whether he uses his platform to promote his personal convictions, such as the time he took his mock conservative shtick to Congress to testify on illegal immigration. "I'm not trying to make a point; I'm trying to make a joke. Sometimes my personal views are what I am saying, but it is important to me that you never know when that is."
While some may beg to differ about Colbert's quest to hide his own convictions, the prominent personality makes no secret of his disdain for "real news."
"We get to be a shadow of the news we're mocking, and as it changes and gets stupider than you could ever imagine, we get to ride along, we get a boost from just how stupid the real news is," he said, adding that there are a lot of stories that he would rather not touch. "Writing jokes about atrocities, foreign or domestic, is no fun. If there is nothing else to talk about in the news, we talk about how the news talks about those things. But I also have the insulation of a character who is not aware of how insensitive he is and believes his opinion on any story is healing a nation. Like most pundits."
For the first time ever, that character – also named Stephen Colbert – flew behind Jon Stewart, who won the coveted Emmy 11 years in a row. However, Colbert assured us that his longtime mentor and Comedy Central cohort didn't actually lose.
"Jon Stewart's streak is not broken," he added. "He's an executive producer of our show, so he won tonight."