'Star Trek' actor Roger Perry dead at 85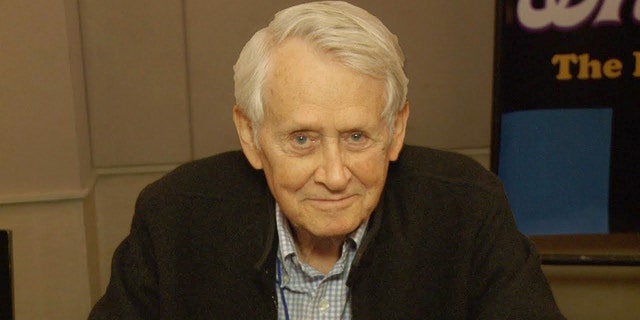 Character actor Roger Perry died Thursday at his home in Indian Wells, Calif., after a battle with prostate cancer. He was 85.
Perry compiled dozens of feature, television, and stage credits during a long career that began when he was discovered by Lucille Ball, who put the young actor under contract to Desilu Studios. He co-starred with Pat O'Brien in the ABC series "Harrigan and Son," and co-starred with Chuck Connors and Ben Gazzara in the 90-minute drama "Arrest & Trial."
Perry was a guest star on the "Star Trek" TV series in a memorable first-season episode in 1967, "Tomorrow Is Yesterday," playing Captain John Christopher. He appeared on "Love, American Style," "Ironsides," "The F.B.I.," "Hawaii 5-0," "Barnaby Jones," "Bob Newhart," "Quincy," "C.H.I.Ps," "The Fall Guy," and many more before becoming a regular on programs such as "The Facts of Life" and "Falcon Crest."
His movie credits included "Follow the Boys" with Connie Francis, "Rollerboogie" with Linda Blair, "The Thing With Two Heads" with Ray Milland and Rosie Greer, and "Cat" and "Count Yorga," which both co-starred Craig T. Nelson and Mariette Hartley.
Among his starring theater credits were productions of "Gypsy," "Annie," "They're Playing Our Song," "Mr. Roberts," "Once Upon a Mattress, "Anything Goes," "The Royal Hunt of the Sun," "Goodbye Charlie," "Lovers and Other Strangers," and "Love Letters."
Perry composed the music for "Make a Promise, Keep a Promise," which premiered at the Doolittle Theater in Hollywood. He also composed the score for the musical version of George Bernard's "You Never Can Tell," starring himself and his wife, Joyce Bulifant, at Theatre East in Los Angeles. Barbra Streisand sang his song "A Kid Again" in her TV special titled "My Name is Barbra."
Perry and his wife starred in "The First Hundred Years" (produced by John Fosythe), "Hanging By a Thread" with Patty Duke, and "The Happiness Bench," with Mariette Hartley and John Aniston. In recent years, the Perrys have been performing in benefit productions for children's programs and charity.
Perry was previously married to Joanne Worley. He is survived by his wife, his brother Nick Perry, his son Chris Perry, his daughter Dana McNerney, and grandson Parker McNerney. Services are pending. In lieu of flowers, donations can be made to River Bridge Regional Center for Abused Children in Glenwood Springs Co., which was founded by Perry and his wife.