Sources: ABC desperately seeking Katie Couric replacement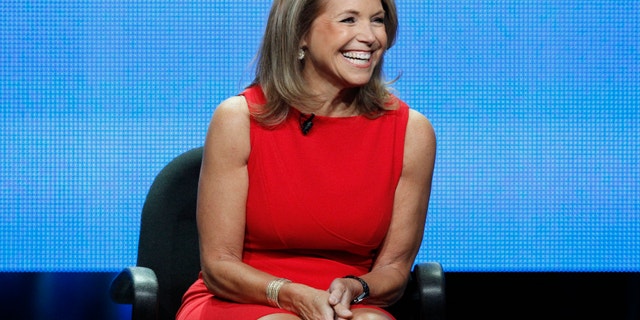 From the co-host of NBC's once unbeatable "Today Show" to an esteemed CBS Evening News anchor, Katie Couric was once America's most trusted sweetheart for delivering the news. But could her freshman daytime ABC talk show, simply titled "Katie," be her demise?
"While all television is going through a difficult time and programming is having a hard time finding its niche, Katie's new talk show does not live up its expectations," a source closely connected to the ABC show told FOX411's Pop Tarts column. "Whatever constraints Katie experienced anchoring 'Evening News' [it is] certainly taking its toll, and her return to daytime has backfired."
Others in the industry are even less kind.
"It's an unmitigated disaster," one seasoned studio executive said. "One of the biggest failures ever in syndication. Terrible ratings, no growth, shouldn't be on the air. Where did it miss the mark? Let's start with her, she is dreadfully boring. The show offers nothing new to the audience, nothing to say."
When "Katie" launched in September 2012, and many expected that Couric would fill Oprah's shoes as the ultimate talk show Queen, and although the show is number one in the ranks of first-year talk shows in terms of ratings, it has endured an erratic, overall underperformance. Nielsen Media Research reported that in mid-May Couric's show averaged a 1.6 rating/5 share average in households, down 30 percent from the same time period last year.
In January, Disney-ABC Domestic Television officially renewed Couric's syndicated talk show, which airs in stations spanning more than 95 percent of the country, for a second season through fall 2013.
A source closely connected to Couric insisted that the news woman is working closely with ABC and is still very much wanted by the network.
But as it stands, we're told it is almost a certainty there will be no season three.
"They (staff) are desperately running around approaching talent and offering to train them to replace her as a new daytime talk show host," revealed a source. "It's a number one priority."
Yet another insider is skeptical that Couric's show will complete its second season.
"There is zero chance is goes to a third season," noted another insider. "It might not even finish the second."
And while staff turnovers are not uncommon in the television arena, the amount of comings and goings behind the camera at "Katie" is said to be particularly unsettling.
Less than two weeks ago, it was announced that executive producer Michael Morrison, who joined the program after Jeff Zucker left to take the head helm at CNN, would part ways after the first season wraps in July. Morrison will be replaced by a former "The Tyra Banks Show" producer, Rachel Miskowiec.
"Rachel Miskowiec was hired as Executive Producer to make changes, and that is perfectly natural for staff turnovers and bitterness from people who have no idea," a source close to Couric told us.
But others add that Couric herself may be the problem.
"Katie has a controlling interest in her show and is not afraid to remind everyone," a close source said. "Katie has stipulated that she will only interview Ivy League-type guests, and her blatant disregard for producers and executives alike, has created such animosity that ABC [execs] have made it a top priority to find a replacement next season."
Another person connected to Couric described the goings on as dramatic, there has been plenty of behind the scenes bickering.
"Initially Katie wanted to do what 'Oprah' did and take relatively unknown people in their professions and make them big stars, like what Oprah did with Dr. Phil and Suze Orman," said the source. "But it just never happened."
But on the flipside, an ABC source assured us that Couric cannot be faulted for the show's flaws.
"Katie is frustrated because she's constantly trying to drive up-to-date, current segments whereas most of the team around her a stuck on more evergreen, formulaic daytime segments. She wants it to be very news driven. But she works very hard and has been relentless in being active on social media," explained the industry counterpart. "But Katie isn't having a good time and she can be extremely difficult to work with…"
However, Couric's name and clout has enabled her to score a number of "big celebrity gets" throughout the duration of her 3 p.m. show – from Jessica Simpson, Jennifer Lopez, and Taylor Swift to Amanda Knox's boyfriend, Manti Te'o and E.L. James.
But some have criticized the show's diverse guest list.
"The program has had trouble finding a hook," wrote Laure Bennett for New Republic. "On 'Katie,' Couric has seemed at times like a peppy lifestyle reporter and at times like a defanged news anchor…"

But among the condemners, there are still plenty of loyal fans and critics. The New York Daily News has described Couric's presentation as "friendly and warm," while Newsday said she "looked and sounded sharp."
"I love Katie Couric. She is so positive, kind and successful," one fan tweeted, as another simply weighed in: "Amazing show that Katie Couric has."
However, if insiders and experts are proven right and Couric walks away from her greatly-hyped daytime slot, what would likely be next for the veteran news pro?
"Worst case the show fails," crisis communications and PR expert Glenn Selig said. "I am sure she has a bright future, and probably best suited for a morning show like 'Today' where she saw so much success and seems to be the most comfortable."
Meanwhile others haven't ruled out her following Zucker into the cable news world.
"I guess she goes to CNN with genius boy or calls it quits," added a source. "Or maybe she tries some primetime specials."
A rep for the show's production company Times Square Studios, did not respond to a request for comment.