Source: Wade Robson not asking for much money in sex abuse claims against Michael Jackson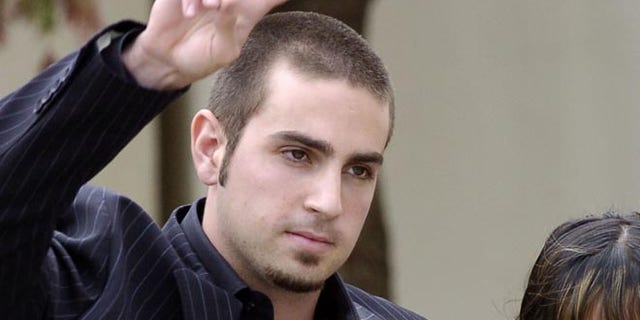 LOS ANGELES – Michael Jackson was acquitted of all 14 child molestation charges in 2005, but now – eight years later – one of his key defenders is claiming that he was sexually abused by the King of Pop.
In April, Wade Robson, a 30-year-old Australian-born dancer and choreographer, came forward with claims that Jackson abused him for years as a child, labeling the music mogul – who died in 2009 –a "pedophile and a child sexual abuser." Although Robson, a former MJ dancer in the '90s, previously testified on Jackson's behalf, he has since asked a court to allow him to file a claim against the Jackson estate – alleging that Jackson's companies MJJ Productions and MJJ Ventures failed in their duty to protect him when they hired him from Australia to work with the star.
"This is not a case of repressed memory. I have never forgotten one moment of what Michael did to me, but I was psychologically and emotionally completely unable and unwilling to understand that it was sexual abuse," Robson recently told Matt Lauer on the "Today" show, adding that "manipulation and brainwashing" forced him to not reveal the truth. "He performed sexual acts on me and forced me to perform sexual acts on him… Because I've lived in silence and denial 22 years, I can't spend another moment in that."
However, the timing of Robson's explosive claims – which come as the Jackson family is embroiled in a $40 billion wrongful death lawsuit against concert promoters AEG – has many raising eyebrows.
"Given that Jackson's estate could now recover tens of millions in the suit against AEG, it is far too convenient and cynical to [now] make a monetary claim against the same estate," California Criminal Defense Attorney David Wohl, told FOX411's Pop Tarts column.
And Robson's bombshell accusations have drawn mixed reactions from Jackson fans and foes.
Jermaine Jackson said the dancer was "full of s**t," while a fan of MJ added via Twitter that "[Robson] said all that for attention and money." Another weighed in: "Let MJ rest in peace. I don't trust you/nor believe you." And scores of others called Robson an "opportunist" and a "brainless fool."
Acclaimed attorney Howard Weitzman, a lawyer for the famous family also issued a statement calling Mr. Robson's "transparent lawsuit" both "outrageous and sad."
"Mr. Robson has adamantly denied under oath and in numerous interviews over the past 20 years that Michael Jackson ever did anything inappropriate to him," Weitzman stated. "He now wants us to believe that he committed perjury at least twice and has been lying to anyone and everyone about Mr. Jackson since the early '90s so he can file a claim for money."
However, a source closely connected to the Jackson family told us that the dancer is not asking for much money at all, just reimbursement for his therapy sessions– likely totaling no more than $15,000.
Another insider also noted that, while the documents are sealed, Robson has not asked for any specific monetary damages.
"Rather, he would leave it to the court to decide what he deserves," said the source. "This isn't about the money for him. It's about speaking the truth."
And at least a few others have advocated their support.
"We live in a world where the victim is hated & the perpetrator is praised," one Twitter user suggested. Another wrote: "I believe Wade Robson. Michael Jackson, talented and extraordinary, was a pedophile. And people must own it."
And according to Los Angeles-based therapist Dr. Nancy Irwin, it can be extremely difficult for grown men to understand that they were sexually abused.
"It is quite easy to psychologically manipulate a child… Especially when you are a huge celebrity, particularly if the offenses are non-violent and the child is fond of the offender outside of the abuse," she explained. "In this particular case, we may never know the truth because MJ is gone. If it is true, [Robson] has every right to at least receive victim restitution."
A source close to the Jackson family also told us there is potential truth in his allegations.
"When [Robson] and his mother testified for MJ during the molestation trial, I immediately thought 'wow, this guy was molested' even though he denied it. His testimony was pretty startling and what was more startling was his mother's testimony," said the insider. "She said that when Michael was returning to the U.S. during the 1993 Jordan Chandler investigation, MJ called her at about 1:30 a.m. and demanded she bring Wade to Neverland because he wanted to spend the night with him… That testimony really stuck with me," continued the insider. "I believe [Robson], but [the timing] has given people ammunition to say he is lying and only after money because he filed the claim."
On that note, a Neverland housekeeper who previously testified in graphic detail that she saw a 7 or 8-year-old Wade Robson naked in the shower with the world-famous entertainer is, according to TMZ, slated to play a prominent role in whether Robson receives any monetary compensation from the estate in his new civil suit.
Robson has had a successful career as a dancer and choreographer, directing videos for the likes of Justin Timberlake and Britney Spears, and starring on television shows including "So You Think You Can Dance."
An attorney for Robson declined to comment, and a legal representative for the Jackson family did not respond to a request for further comment.