Source: DreamWorks could have saved U.S. jobs if they made 'Kung Fu Panda 3' in U.S., not in China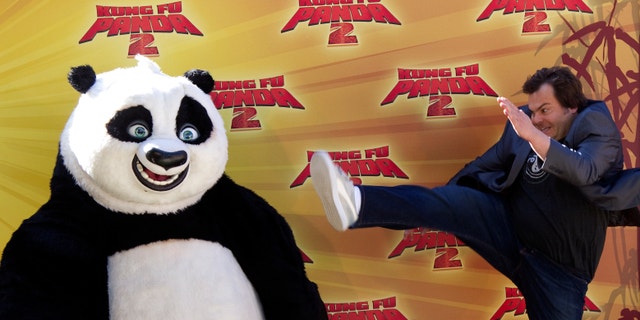 LOS ANGELES – Could the 'Kung Fu Panda" studio's big play in China mean some American workers get the karate chop?
The Hollywood Reporter reported last week that DreamWorks Animation – founded by Hollywood heavyweights Steven Spielberg, Jeffrey Katzenberg and David Geffen – is set to lay off a portion of their 2,000-plus employee base.
Last August, DreamWorks Animation announced plans to develop a $3.1 billion cultural and entertainment district in Shanghai, in conjunction with a group of Chinese partners – complete with theaters, performance halls, restaurants, shops and an entertainment center decked out with a "Kung Fu Panda" theme. The projects has been billed rivaling New York's Broadway and London's West End.
"Kung Fu Panda 3" – a continuance to the wildly successful 3D slate of films based on a floundering panda who goes on to become a martial arts hero – will be produced in China by a new joint venture, Shanghai Oriental DreamWorks Film & Television Technology Co., and released in 2016.
DreamWorks will own 45 percent of the company, and the Chinese partners will hold 55 percent.
A rep for DWA did not respond to a comment request to confirm if work on the third installment is already underway, but a person familiar with production said that it most likely is, as such a film would take three to six years to make.
That source also said the potential forthcoming U.S. job losses could be linked to DreamWorks Animation's growing developments in China.

"Typically, the successes should balance out the failures. A studio will often go through a wave of regular layoffs and hiring during these phases, but this looks set to be the largest layoff to date,which certainly raises some questions as to why," the high-ranking artist in the industry told FOX411's Pop Tarts column.

Speculation is indeed swirling as to whether the potential job losses could be saved if "Kung Fu Panda 3"— like its predecessors — was made in the Unted States. According to our source, the answer is a likely "yes" as "a typical animated production company employs anywhere between 300 to 600 artists."

But Dr. Dariush Adli, Founder and President of Adli Law Group – which specializes in entertainment, new media, business and trademarks – notes that there are many reasons that DreamWorks can site for the reported forthcoming layoffs, such as the loss surrounding the "Guardians" film, but ads that "changing the location to a production of a movie such as 'Kung Fu Panda,' could hinder some jobs as well."
"As for opening a studio in China, it seems DreamWorks Animation has a long-term plan and will soon start producing all its movies over there, which could hinder more jobs later," Adli continued.

However, J. David Williams, the President and CEO of prominent Film Finance and Marketing company FilmCrest argued that the employee action that DreamWorks has been poised to take should not be looked at as a reaction to their recent film's performance in the marketplace.

"Films must be made at a higher quality basis to compete, but at a less expensive price," he said. "Unfortunately, that is what China delivers. Animation and Visual Effects movies are especially perfect for the Chinese production pipeline because they require a lot of money, time and personnel which are plentiful in that part of the world. DWA recognizes this, and are doing the right thing."
A rep for DreamWorks Animation declined to comment on the reported layoffs, and instead referenced last week's press release indicating changes to the programming schedule, and pointed out that the developments in China were not mentioned.

In the release, DreamWorks Animation CEO Jeffrey Katzenberg announced that only two – instead of the initially planned three – films would be released by the studio in 2013 and they were "adjusting their infrastructure costs accordingly." The release also confirmed that the domestic scheduling reduction was at "the recommendation of its, distributor, Twentieth Century Fox." Last year, DWA entered into a five-year distribution deal with Fox.
"We believe the best strategy for DreamWorks Animation in the long run is to ensure that every one of our films has an optimal release date with the biggest opportunity to succeed at the box office," Katzenberg stated.
Twentieth Century Fox did not respond to a request for comment.
Yet The Hollywood Reporter noted that the staff cuts, which have been rumored for weeks, would hit the Glendale, California-based studio's production, technology and overhead functions and that "no single film project in development will be targeted." According to the site, "plans for an unspecified reduction of the company's employees are already afoot and should begin before the publicly-traded studio reports earnings Feb. 26."
But DreamWorks is not alone. Hollywood's ties with China overall are continuing to grow, with studios like Walt Disney Co. and Relativity Media also inking deals.
"It's proven that proceeding to China can save you tons of money on labor, machinery and space," Adli said.
And according to our animation industry insider, it's going to hit Americans who work in the niche area where it hurts.
"The entertainment business has long been dominated by the American industry," said the source. "It's a shame to see it being outsourced the same way manufacturing and other industries have also gone. There no longer seems to be any loyalty to the American brand."