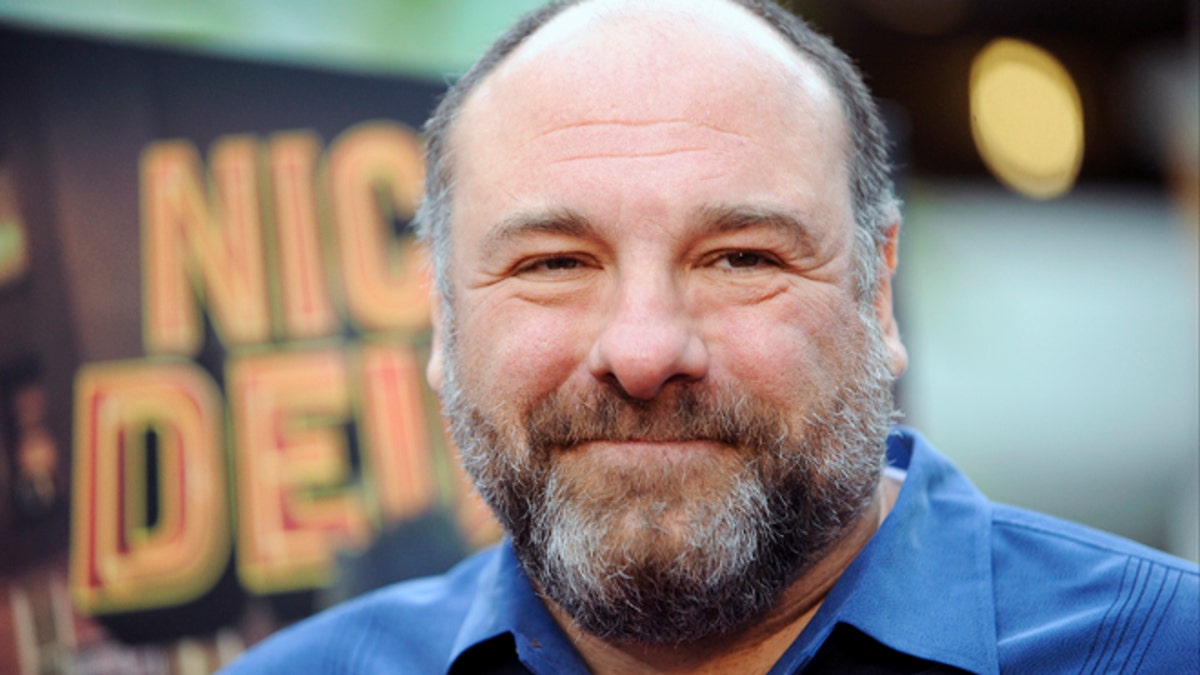 Shock waves rippled through the entertainment industry late Wednesday as news surfaced that actor James Gandolfini, 51, had died from a possible heart attack while on vacation in Rome, Italy.
Edie Falco, who played Tony Soprano's wife, Carmela, on "The Sopranos," released a statement: "I am shocked and devastated by Jim's passing. He was a man of tremendous depth and sensitivity, with a kindness and generosity beyond words. I consider myself very lucky to have spent 10 years as his close colleague. My heart goes out to his family. As those of us in his pretend one hold on to the memories of our intense and beautiful time together. The love between Tony and Carmela was one of the greatest I've ever known."
"Sopranos" co-star Michael Imperioli said: "Jimmy treated us all like family with a generosity, loyalty and compassion that is rare in this world. ... Working with him was a pleasure and a privilege. I will be forever grateful having had a friend the likes of Jimmy."
[pullquote'
"James is one guy who never turned his back on me. He was the most humble and gifted actor and person I have ever worked with, "He was a great man and I will forever be indebted to him," Joseph R. Gannascoli, Vito on "The Sopranos," told TMZ, while fellow star Tony "Paulie Gualtieri" Sirico said Gandolfini was one of his "best friend in life."
"He helped me with my career and I'm going to miss him," Sirico said. "He's part of my family."
Others who worked with and knew Gandolfini also expressed the condolences and disbelief.
"Unbelievably sad news. A fine man," tweeted Steve Carell, who worked with Gandolfini on his most recent big screen role in the comedy "The Incredible Burt Wonderstone," while co-star Olivia Wilde wrote: "James Gandolfini was a kind, funny, wonderful guy. I'm so lucky to have worked with him. Sending love to his family. Such a sad, sad day."
Actor/director Kevin Smith tweeted "RIP James Gandolfini! Your iconic portrayal of mob boss Tony Soprano gave soul to a monster and fostered perverse pride in the Garden State."
Rainn Wilson wrote, "You were one of the great greats. We'll miss your dangerous, big heart," and actress Rose McGowan, who spent time with Gandolfini on a 2010 USO tour in the Middle East, tweeted along with a picture: "I am heartbroken about James Gandolfini. He was a gentle giant and great man."
Russell Simmons expressed his shock with the tweet "Not tony soprano! Damn. Such a good guy and a great actor," and actress Kristen Chenoweth said, "NO. Not James Gandolfini. He was in my top 5 favorite actors EVER. :(" Jeff Daniels referred to him as "a great friend," and Jonah Hill called his death "a tragic loss."
Meanwhile, Sen. John McCain tweeted: "RIP James Gandolfini, one of the nicest guys I've ever met," Octavia Spencer observed that she was "so sad" about the news, and John Stamos paid his respects: "You were DAMN good Mr. Gandolfini and will be sorely missed."
Scores of other famous faces and fans immediately took to Twitter to offer their condolences and pay tribute to the critically-acclaimed film and television actor – from Bethenny Frankel and fellow Jersey native Pauly D, to Christina Applegate, Josh Groban, Debra Messing, Bette Midler, Ewan McGregor, Busy Phillips and Rob Lowe, who noted that Gandolfini "gave the greatest performance in the history of television" and was also "a kind man."
Gandolfini won three Emmy Awards for his depiction of mobster Tony Soprano in the hit HBO series, and most recently appeared as the CIA director in the Oscar-nominated "Zero Dark Thirty" and comedy "The Incredible Burt Wonderstone."
He is survived by his wife, Deborah Lin, their baby daughter and his son ,Michael, with his ex-wife Marcy Wudarski, from whom he was divorced in December 2002.
"We're all in shock and feeling immeasurable sadness at the loss of a beloved member of our family. He was special man, a great talent, but more importantly a gentle and loving person who treated everyone no matter their title or position with equal respect," HBO representatives said in a statement. "He touched so many of us over the years with his humor, his warmth and his humility. Our hearts go out to his wife and children during this terrible time. He will be deeply missed by all of us."