Sophia Loren and Jayne Mansfield: The story behind that infamous snap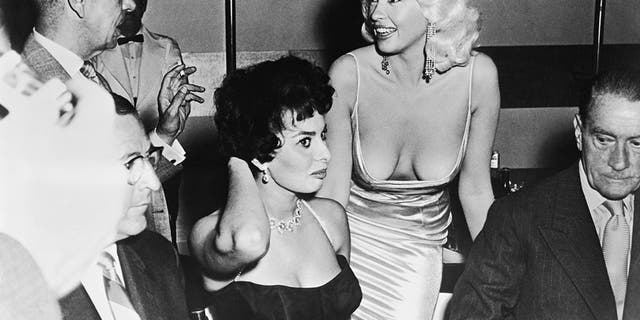 Sophia Loren didn't seem impressed when Jayne Mansfield crashed her party and nearly spilled out of her dress in front of eager photographers.
The snapshot was taken back in 1957, but it has since become one of the most iconic photos in Hollywood history. It's currently being featured in a new book from People Magazine titled "100 Best Celebrity Photos."
CELEB PHOTOGRAPHER SPILLS OLD HOLLYWOOD SECRETS
"When we decided to put together a book of the 100 best celebrity photos, honestly, the first photo that came to mind was this one," said editor-in-chief Jess Cagle Thursday.
Cagle explained that back in 1957, the Italian bombshell "had signed a deal with Paramount and had come to California, and Paramount threw a big welcome party for her in Beverly Hills and Jayne Mansfield was on the guest list."
Loren, who was supposed to be the star of the glamorous bash, wasn't expecting Mansfield to steal the spotlight. The 83-year-old recalled that fateful evening to Entertainment Weekly in 2014.
"All of cinema was there, it was incredible," she recalled. "And then comes in Jayne Mansfield, the last one to come. For me, that was then it got amazing."
That's when their encounter took an unexpected turn.
"She came right for my table," said Loren. "She knew everyone was watching. She sat down. And now, she was barely… Listen. Look at the picture. Where are my eyes? I'm staring at her nipples because I am afraid they are about to come onto my plate. In my face you can see the fear. I'm so frightened that everything in her dress is going to blow – BOOM! – and spill all over the table."
Loren admitted that fans still give her the infamous photo for an autograph. However, she refuses for a very different reason.
"[And] I never do," said Loren. "I don't want to have anything to do with that. And also out of respect for Jayne Mansfield because she's not with us anymore."
Mansfield died in 1967 from a car crash when she was 34. Her daughter, Mariska Hargitay, would go on to pursue acting and star in "Law & Order: Special Victims Unit."
Loren married Italian film producer Carlo Ponti in 1957. They stayed together until his death in 2007.
"He was my husband, my father, my man, my home," she said. "For him the cinema was like life – just a big adventure."