Sofia Vergara sent Reese Witherspoon to the hospital while filming 'Hot Pursuit': 'I popped her ovary'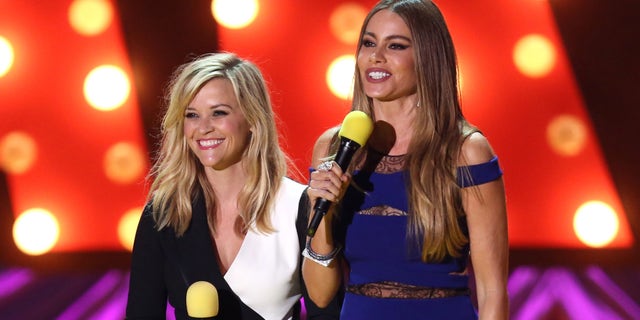 Sofia Vergara is not a woman to easily mess with. Her "Hot Pursuit" co-star Reese Witherspoon learned it the hard way during filming when she landed in the hospital because of the Colombian bombshell.
"It was a lot of action. It was a lot of me man-handling her and so some funny things," said Vergara, 44, said Monday on "The Ellen DeGeneres Show."
"We get to make out in the movie. We had a lot of fun."
Witherspoon, 39, added, "We did a fight sequence – she's tough man… I might have had to go to the emergency room."
"I sent her to the emergency room," Vergara quipped.
The costars revealed the incident caused Witherspoon some internal bleeding, which she thought was a burst appendix.
"I push her and I push her, and I kept telling her, 'I think I'm pushing you too hard,' and she was like, 'No do it real,'" Vergara said. "And I popped her ovary."
To which Witherspoon responded with, "It's clearly something that happens in Colombia."
Fortunately Witherspoon survived her ordeal and she was able to get back to filming.
During their appearance, Vergara also poked fun at her co-star's attempt to speak in her native language for "Hot Pursuit." She said it was her favorite part of the film, and that it was "horrible."
"She wasn't even nice about it. She was like, 'This is terrible,'" said Witherspoon, who took two years of Spanish in school and tried really hard for the film. "You sound terrible. And then we saw the whole movie and she goes, 'You've got to do that thing where you speak Spanish because Spanish people, people think that's so funny.'"
Vergara added, "Because now I understand why I am so funny to the Americans. It's ridiculous. It was insane. I was ruining all the takes laughing so hard."
Like us on Facebook
Follow us on Twitter & Instagram