Sofia Vergara doesn't want ex suing her to keep taking advantage of her career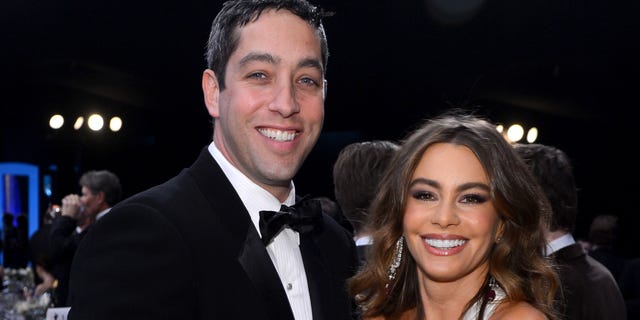 Sofia Vergara is done talking about the lawsuit her ex-fiance Nick Loeb filed against her.
The "Modern Family" actress told ABC News' Amy Robach in an interview that aired Thursday on Good Morning America that she doesn't think "it's fair" she needs to keep talking about it.
"I've been working very hard for 20 years to get to this point where I am, enjoying my movie," she said. "I promote all my movies, all my work, but I don't like promoting my private life and I don't understand why this person … I don't want to allow this person to take more advantage of my career and try to promote himself and get press for this."

Vergara, 42, and Loeb, 39, split in 2014, but not before creating two embryos that have been kept frozen. In August, the businessman filed a lawsuit against the actress in hopes of preventing her from destroying them or letting them remain frozen indefinitely.
The private matter became public last month after a report by InTouch, which was followed by Loeb penning an op-ed piece in the New York Times in which he explained why he was to "protect" the embryos at all costs.
"In my view, keeping them frozen forever is tantamount to killing them," he wrote in his April 29 piece.
Vergara, who first broke her silence in an interview with Howard Stern earlier this week, told Robach that the lawsuit should not be out in the public eye for people "to give their opinion when there's nothing to talk about."
"There's paper signed. There is a court date. He shouldn't be creating something so ugly out of nothing," she said.
Loeb, who also spoke out in an interview on the Today Show on Thursday, said lives were created and that the paperwork never mentioned what would happen in the event of a split.
"After signing the forms, we actually went through the process of creating life, putting it into a surrogate once, putting it in to a surrogate a second time," he said. "There was no thought of 'Well, now she's going to change her mind, and now we're not going to do it. I always assumed, with our agreement, that we were going to take these full term."
Loeb said the timing of the lawsuit becoming public had nothing to do with Vergara, her relationship with fiancé Joe Manganiello, nor his desire to remain in her life.
"I have tremendous respect for Sofia," he said. "She's very successful; she's smart. This is not something that's new. (Our relationship) has nothing to do with this at all. This has to do with bigger, really moral, legal, ethical concepts about lives we've already created."
For her part, Vergara said she wants to focus on the amazing things that are happening in her career with her new film "Hot Pursuit" and her upcoming marriage to Manganiello. She scolded media outlets for giving Loeb a voice.
"Just with the press, it's like, and allowing somebody to invent things and create press for himself," she said. "It's like why? Why are they allowing him to do that?"
She continued: "I am having an amazing month with all these things that I get to do with my career and he's got nothing. I am not sad."
Like us on Facebook
Follow us on Twitter & Instagram