Simon Cowell Gives 5-Year Old Girl Last Wish Just Days Before She Dies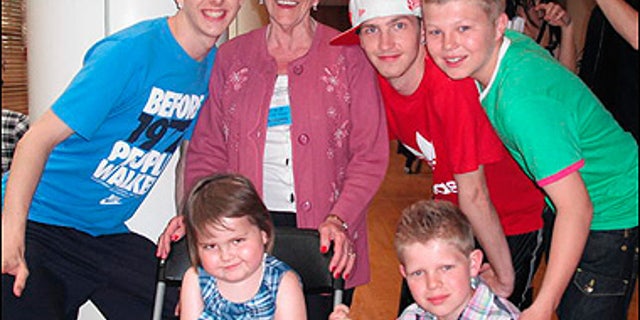 A five year-old girl died just three days after achieving her 'Britain's Got Talent' dream by singing for Simon Cowell.
Brave Bethany Fenton, who had an inoperable brain tumor, pleaded with her parents to perform 'Twinkle Twinkle Little Star' in front of the reality TV boss.
Her wish was granted last Saturday when she sang to Simon backstage and told him a knock-knock joke before the TV show's nail-biting final.
Bethany also met some of the finalists including 13 year-old drummer Kieran Gaffney who wore her hospital tag on his wrist for luck.
But sadly she lost her fight for life at breakfast time Tuesday at Oxford's Radcliffe Hospital after a sudden deterioration in her condition.
Her parents Gemma and Sean were too upset to comment at their home in Fairford, Gloucs.
Family friend Robin Thompson said: "Saturday night was the highlight of Bethany's short life.
"She told her parents 'It was the most wonderful day of my life and I am so happy'.
"Sean thinks that in some curious way she held on so that she could achieve her dream."
Bethany was diagnosed with a tumour last year and surgeons said it was impossible to remove as it was inside the brain, growing outwards.
She underwent chemotherapy but a second MRI in September revealed it was still growing.
Her parents emptied their savings into a search for possible treatments and Bethany had recently started a new trial treatment at The Royal Marsden in London.
Speaking at the weekend after her dream came true, she said: "I loved them all, especially Kieran, who asked for my wristband to give us both luck.
"Simon let me sing Twinkle Twinkle Little Star to him. He's so nice and I love him.
"The hotel was awesome and all the people so friendly. They made me and my brother Louis so happy. And the food was yummy."
Former soldier Sean, 41, said at the weekend: "The highlight of the day was meeting Simon Cowell, who was a true gentleman, joking with Bethany and listening intently as she sang to him.
"Janey Cutler and Kieran Gaffney really made a fuss of her and when all the acts were on the stage at the end of the show you could see Kieran was holding Bethany's hospital tag for luck.
"Amanda Holden completed a great day by giving the family a cake each and telling jokes to Bethany. She was such a nice lady."
Bethany - sister to Louis, 11, Gracie, two, and two month-old Millie - sang to Simon in his dressing room after afternoon rehearsals and met fellow judges and cast over tea.