Sign of Apocalypse? Courtney Stodden Goes on TV to Prove Her Breasts Are Real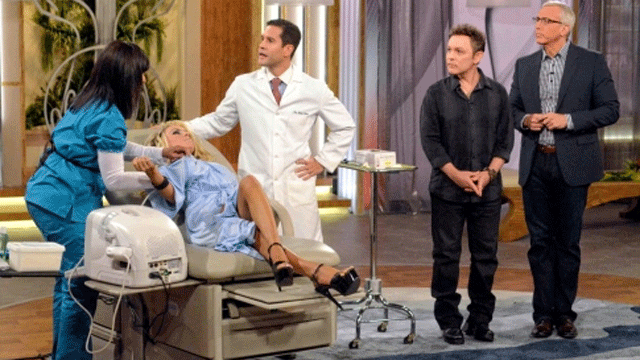 First Kim Kardashian's butt X-ray ... and now this?
Just when you thought television couldn't go any lower, this happens.
Sick and tired of dealing with rumors that she has had plastic surgery, teen bride Courtney Stodden, 17, went on Dr. Drew's Lifechangers to prove that her large breasts are indeed real.
"A knife has never touched this body," she insisted on the show.
While her husband, actor Doug Hutchinson, 51, and Dr. Drew looked on, Stodden underwent an ultrasound which at first seemed to show evidence of an implant.
Gasp!
"There's normal breast tissue, which is forming the substance of most of the middle of that picture, and then I can see the outline of her muscle," said plastic surgeon Dr. John Diaz, who performed the ultrasound. "There was some circular thing there, I'm not sure though if that's..."
"Yeah, I feel a circular object," the nurse agreed.
"It looks like it's under the muscle, too," Dr. Drew added. "So, there's our implant."
"Somebody must have drugged me up, put me under their surgery knife," said Stodden. "Because I've had no surgery done."
video platformvideo managementvideo solutionsvideo player
However, as Dr. Diaz and the nurse continued to examine Stodden, they concluded that the 17-year-old was indeed silicone-free.
"This is all normal tissue we are looking at," Dr. Drew said.
"I guess she was telling us the truth," agreed Dr. Diaz. "She doesn't look like she has an implant."
Stodden said she was happy to set the record on her chest straight.
And America breathed a collective sigh of relief.