Shocking Celebrity Tantrums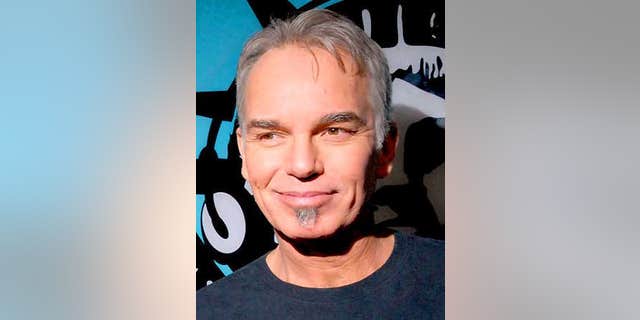 Billy Bob Thornton — the musician, not the actor (well, yes, the actor, but, anyway) — recently had a bizarre Joaquin Phoenix-like "is this for real?" interview with Canadian radio DJ Jian Ghomeshi, to promote "Modbilly," the third album from his band, the Boxmasters.
He answered pretty much every question with, "I don't know what you mean." But when Jian asked about musical influences, the Oscar-winner began rambling about movie-monster magazines.
A confused Jian pressed him on the original question. Billy Bob lost it, thinking the DJ was implying he wasn't a musician.
"Would you say that to Tom Petty?" he demanded. "Would you explain why it's not a hobby?"
His outburst was truly odd, but Billy Bob needs to work harder to compete with the world-class tantrums of other overindulged celebrities. Here are some of our favorites.
Photo gallery: See the most shocking celebrity tantrums.
Alec Baldwin's Cell Phone Message
Alec's a funny guy, but don't get him angry. His tween daughter, Ireland, learned that lesson in 2007 when she didn't answer his phone call. Unfortunately, Alec's voicemail rant was leaked to the media. (Ex-wife Kim Basinger, the woman he described in his message as a "thoughtless pain in the a**," denied being the source.) According to Alec, the missed-communication problem between father and daughter happened "over, and over, and over again," so he planned to fly to L.A. to straighten out his "rude, thoughtless little pig." Alec was so embarrassed by his outburst that he asked the producers of "30 Rock" to release him from his contract so his coworkers wouldn't suffer from the fallout. He also vowed to devote time to the cause of parental alienation, a topic he discussed in his 2008 book, "A Promise to Ourselves."
Christian Bale Melts Down on the Set
While shooting the upcoming "Terminator: Salvation" last July, Christian lost it. Totally lost it. Screamed at director of photography Shane Hurlbut, who moved a light during a take. We guess he couldn't just say, "Excuse me, Mr. D.P., could you please not move the light while I'm acting?" And rather than accept Hurlbut's repeated apology — he also refused to take a five-minute chill break — he continued the rant. Seriously, Christian and Shane are "done professionally." And we're sure no one's more relieved about that than Shane. Apparently, the sound guy wasn't a Bale fan, either. He left the tape running during the meltdown for the whole world to hear.
Mel Gibson's DUI Arrest
Mel actually lucked out when he was arrested for drunk driving in 2006. Sure, everyone knows he went on an anti-Semitic tirade. But it could have been worse. The audio of the incident was kept under lock and key and has never been released to the media (though leaked police-report excerpts were plenty damaging). Now all Mel has to do is lay low for another ten or 15 years and this whole thing should blow over.
Naomi Campbell's Airport Run-In
Naomi needs to stick to carry-ons. Last year, while traveling from London's Heathrow Airport, the supermodel lost her mind over a lost bag. She launched into a tirade as she boarded the plane, and then started screaming at flight attendants. When security arrived to calm her down, she allegedly spit in an officer's face and actually started punching him. Needless to say, the plane did not take off with her onboard — she was hauled off to jail instead. All of this happened a year after her arrest for throwing a cell phone at her maid. Sounds like America's Next Top Super Maniac to us.
Russell Crowe (Almost) Phones Home
No movie star had wanted to phone home so badly since E.T. crashed at Elliot's place. In 2005 Russell Crowe went on a tear in the lobby of New York's Mercer Hotel when he couldn't place a call to his family in Australia. The tirade escalated to an arrest when the actor threw his cell phone, which hit a hotel employee in the face. Hardly the weapon of choice for a true gladiator.
William Shatner and the Wedding Snub
Lots of people cry at weddings, but William Shatner gets all emotional over "I do's" he doesn't even witness. Seems Bill was miffed that former "Star Trek" co-star George Takei didn't invite him to his wedding. The two have a longstanding feud going back to the series; "[A]pparently, I didn't let somebody have a close-up," Shatner quipped in a YouTube rant on the alleged oversight. But according to Takei, he did send his former captain an invitation and isn't sure why Shatner didn't beam in for the festivities.
Casey Kasem's "Dead Dog" Rant
Casey seems like such a nice guy. In fact, it's hard to find a picture of him without a smile. But there was one thing that really set him off: having to make a long-distance dedication to a deceased dog after an upbeat song on his radio show, "American Top 40." Too bad for Casey that someone leaked the "dead dog" rant and it will live in Internet infamy (and on Negativland albums) for years to come.
David O. Russell vs. the Screen Legend
Director David O. Russell may not be a household name, but most people have heard of his movies, which include "Flirting with Disaster" and "Three Kings." Russell has also been known for a hair-trigger temper that once led to an on-set fistfight with superstar (and generally kick-back guy) George Clooney. But who'd have thought it would be Lily Tomlin who'd snap at the helmer during filming of "I Heart Huckabees" and spark one of Hollywood's most legendary leaked rants. Russell's tantrum includes a grand paper-sweep off an on-set desk and a trash-can kick. Meanwhile, co-star Dustin Hoffman creeps away from the firestorm and a P.A. scampers out a door in the set, through which the director later melodramatically re-enters to make his final point. We wish "Huckabees" was half as entertaining.
See stars who've rebounded from painful breakups in our "Looking Good Is the Best Revenge" photo gallery.