Shocker! Department store uses models' actual bodies to advertise lingerie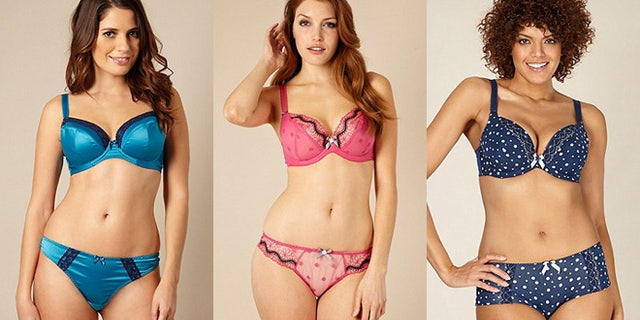 LOS ANGELES – While most advertisers, fashion houses and magazines still shrink waist lines and suck away pounds with the click of a mouse, one shop is putting their money where their lingerie is when it comes to unrealistic retouching in today's tech age.
Popular U.K. department store Debenhams recently announced a ban on all retouched lingerie model shots, proclaiming that they had a "moral obligation" to "encourage positive body image."
Many have praised Debenhams for the bold marketing move, but also hope that their airbrush-free philosophy will extend beyond lingerie shots, given the impact all types of digitally nipped, tucked, trimmed, toned, and de-wrinkled images have on women. (A study conducted by Brown University found that 74.4 percent of the normal-weight women stated that they thought about their weight or appearance "all the time" or "frequently.")
"Every day, women are constantly bombarded with advertising messages that they are not good enough, that there is something wrong with them or their body," behavior expert Patrick Wanis, PhD, told FOX411 Pop Tarts column. "The airbrushing of models only succeeds in reminding women that they will always be lacking and worthless."
The Barbie-fication of women in media can leave a damaging impact on men as well.
"When men view retouched images of women, they are being fed a female ideal that simply does not exist," explained John Clark, who works in the film industry and conducts educational workshops with his wife, former model Nicole Clark. "Yet these images are all men see in the media, and eventually generate expectations that cannot be fulfilled."
According to model Monica Hansen, airbrushing has become more common in recent years. She says a lot of times on a shoot, the photographer or client will make a comment like "we will fix that in Photoshop later."
"One of the digital tricks used today is 'liquefying the images.' With the liquefying tool you can basically create and re-shape anything on somebody's body and face, like make their nose smaller, legs longer, lift the breast to a higher position or make thighs and hips slimmer," she said. "But since our digital technology is growing and people are these days so accustomed to it, it would be too difficult to reverse it now. Hopefully we can raise awareness by educating people to understand that the images in the media are far from realistic."
She's not the only one pushing for this change. Earlier this month, H&M was forced to dump photographs of their celebrity model Beyonce after the singer reportedly complained about her snaps being doctored, prompting them to use only the more natural ones. Last year, top-selling teen magazine Seventeen was thrust into some unwanted limelight after one fourteen-year-old advocate, Julia Bluhm, launched a petition on Change.org, which attracted almost 86,500 signatures. She staged a protest outside publisher Hearst Corporation's Manhattan headquarters, urging Seventeen to print at least one unaltered feature inside each monthly issue, to which they eventually agreed.
Although it doesn't seem to be gaining much traction in the U.S. yet, the issue is under increased governmental scrutiny across the pond. The Liberal Democrats – the UK's third largest party – adopted a proposal in 2009 for a labeling system that would require a disclaimer on altered photographs.
Last year, a beauty ad for Christian Dior featuring Natalie Portman was banned by Britain's Advertising Standards Authority for "exaggerating" the effect of the product on her lashes. While the designer label admitted digital enhancement had take place, it argued that it was a "minimal" amount with regards to augmenting the thickness and volume of Portman's lashes. The watchdog previously removed airbrushed beauty ads from L'Oreal led by the A-list likes of Julia Roberts, Christy Turlington and Penelope Cruz, and a 2009 Olay advertisement starring 60's supermodel Twiggy was also nixed by the authority for digitally erasing her wrinkles.
So should the U.S. follow suit? Or is it up to advertisers and media outlets to exercise their own sense of right and wrong on the issue?
"Until the government steps up and creates rules for retailers and advertisers, this will go on. Most companies have made it clear they will not self-regulate," said Nicole Clark, a model represented by top agency Elite during her 90's heyday. "Back then there wasn't Photoshop so images were only color corrected at most. Photographers had to be more skilled in order to create their images."
But others think manipulating photos is as normal as being able to fit into a designer's size zero dress.
"It has become completely acceptable these days to have images touched up or airbrushed before being released to the marketplace," said tech expert and business analyst Ari Zoldan, CEO of Quantum Media Holdings, LLC. "We are living in an era where nothing is sacred anymore."