Sharon and Ozzy reunite for Ozzfest press conference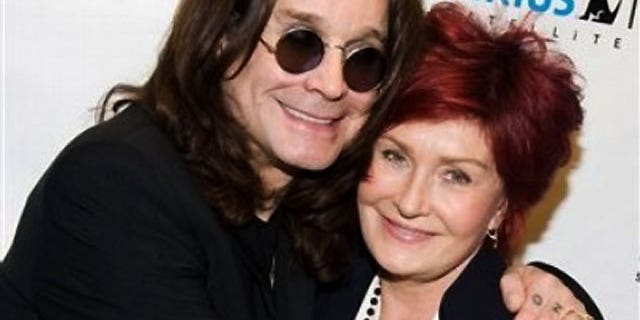 LOS ANGELES – One of Hollywood's most-talked about couples - Ozzy and Sharon Osbourne - reunited at the Hollywood Palladium Thursday afternoon for a press conference that announced merger of the Ozzfest and Knotfest festivals in 2016.
With no mention of his rumored affair, Sharon took the stage to introduce Ozzy and other members of Black Sabbath. Ozzy and Black Sabbath announced their performance together for the 20th anniversary of Ozzfest.
The crowd went wild with a mixture of cheering and booing as Sharon spoke.
"I want to introduce you to some friends of mine. Ozzy Osbourne..." She said.
The 67-year-old rocker walked toward his wife and they embraced. Ozzy (and Sharon) both still wore their wedding rings, and he sported an electric blue jacket along with his classic sunglasses.
At various times throughout the announcement, the crowd was chanting "Ozzy Ozzy Ozzy!"
At the end of the musical tour announcement, photos were taken onstage. Sharon made her way to the middle to stand next to Ozzy and he put his arm around her in an embrace.
The couple even arrived together in the same car for the announcement.
Ozzy gushed to ET about his wife following the event.
"She's my right arm," he told ET. "She's everyone for me. She's great."
Sharon was less enthusiastic when explaining why she was appearing alongside her husband. She said she was at the event to work.
"It's business. This is my business, you know? This is what I do," Sharon told ET. "People have forgotten, because they see me every day on the chat show, but this is still the other half of my life."
Sharon added that being Ozzy's manager has been a big part of her career.
"We've been working together, my Lord, since '76. That's how long we've been working together. Before we were married," Sharon said. "So, it's been a long time."
On Tuesday's episode of "The Talk," Sharon confirmed she and Ozzy were not living together and she said she did not know if they will stay married.