Shakira Dishes On Her Sexy Video With Rihanna, Admits Seeking Boyfriend's Approval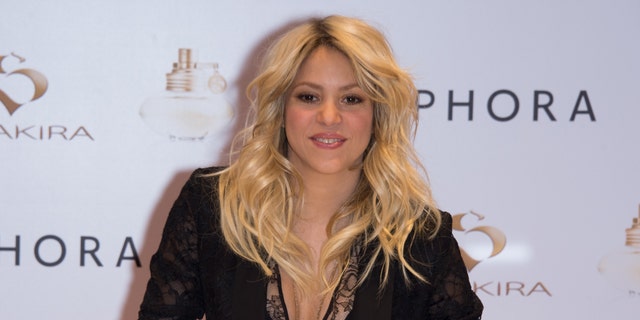 The reaction to her sexy music video with Rihanna has been overwhelming and crazy, but somewhat expected, said Shakira.
Talking to Ryan Seacrest on his radio show, the Colombian singer said she knew the "Can't Remember to Forget You" music video was going to be controversial and would be talked about.
"I knew people were going to be interested, especially because Rihanna is so big, but this is crazy," Shakira said.
The video was shot in December, but before she got involved, Shakira revealed she got the stamp of approval from her boyfriend and father of her son, Gerard Pique.
"I told him. I asked him if he agreed with everything and he agreed," the 37-year-old singer told Seacrest. "I wanted to make sure because he is super jealous. He's territorial. He wants to know everything is under control."
"Can't Remember to Forget You" is part of the Colombian star's 10th studio album, also her first self-titled one.
So why now?
"Because this album is not a really a conceptual album. I don't think there's a common threat from top to bottom and there were many stops and gos throughout the creative process and many things happened, among those delivering a child," Shakira told Seacrest.
"So I don't think this album deserved to have a word as a title that encompassed the whole concept of this body of work," she continued. "I thought that my name was sufficient."
"The Voice" coach added the process in creating this new album, which drops March 25, was changed when she had her son Milan.
"I've always been a perfectionist, but when you are a mother, you have to let it go cause there is a child waiting for you at home," Shakira said.
Aside from the Rihanna collaboration, the "Waka Waka" singer revealed she teamed up with fellow "Voice" coach Blake Shelton for a country song.
"That was awesome," she said. "I wrote the song with some people from Nashville and I sent it to him and I was super nervous. I was like, 'Oh my god. What's he going to think?' and he loved it. He said, 'Wow! This is exactly what you were talking about. I love this song.'"
Shakira and Shelton are currently filming the next season of "The Voice" with Maroon 5's Adam Lavine and R&B singer Usher. It returns to NBC on Feb. 24.
Follow us on twitter.com/foxnewslatino
Like us at facebook.com/foxnewslatino