Seth Rogen's AMC series 'Preacher' features Nazi wearing MAGA hat in season finale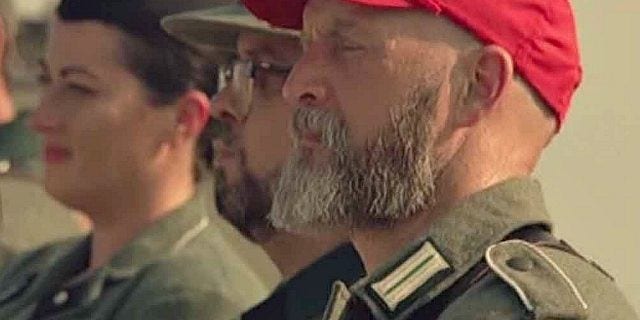 NEWYou can now listen to Fox News articles!
In the season finale of Seth Rogen's AMC series "Preacher," a character dressed in a Nazi uniform was wearing one of President Trump's "Make America Great Again" hats.
In one scene from Sunday night's finale, a tank with Nazi symbols on it and characters dressed in Nazi uniforms appeared behind the vehicle while one character had a red MAGA hat on.
Following the episode, social media users took to Twitter to express their distaste with the scene.
"Why did you have to go and put a #MAGA hat on the neo Nazi? You couldn't keep your f---ing politics out of the show?! Now I have to say goodbye to preacher. You suck!" one person tweeted.
Tweeted another: "Finale Features Nazi Wearing MAGA Hat. Well, I guess I won't be catching up on this seasons @PreacherAMC or the next one, way to insert politics to the story."
"Just hate you had to put your political bulls--t on Preacher. I kno (sic) you dont care but you lost 2 fans of Preacher tonight," wrote another Twitter user.
"MAGA hat on a Nazi in the latest Preacher, really? Really? The Left hasn't any class. As the grandson of a man who fought the Nazis in WWII and a French woman who lived under Nazi occupation, who's ancestral castle hid the REAL Resistance fighters, this is abhorant (sic)," another social media user tweeted.
"Preacher," which first aired on AMC in 2016, tells the story of a preacher who enlists the help of an ex and a vampire in order to find God.