Sen. Kamala Harris raises eyebrows on 'Ellen' with Trump joke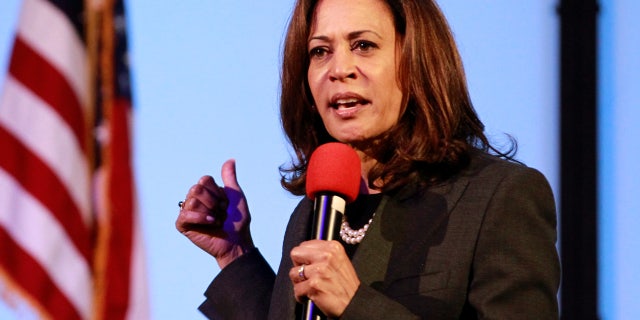 Sen. Kamala Harris, D- Calif., a rising Democratic star and potential 2020 presidential candidate, raised eyebrows during an appearance on "The Ellen DeGeneres Show" Thursday for one of her answers to a hypothetical question.
DeGeneres asked Harris a series of lighthearted questions, ranging from whether she has any tattoos (no) to her celebrity crush (Tito Jackson).
She was then asked, "If you had to be stuck in an elevator with either President Trump, (Vice President) Mike Pence or (Attorney General) Jeff Sessions, who would it be?"
"Does one of us have to come out alive?" Harris asked, prompting cheers from the audience. Harris laughed hysterically at the joke and took a second to compose herself.
The San Francisco Chronicle's report pointed out that "Even DeGeneres applauded the senator's wit."
Conservatives responded to the remark on social media. Fox News' Sean Hannity called the comment a "shocking new low."
Harris, California's first African-American senator, has not responded to the conservative response online.
DeGeneres asked her if she is considering a 2020 run, and the senator responded, "Right now, we are in the early months of 2018, and at this very moment in time, there are people across America who have priorities around their health care, have priorities around: Can they get through the month and pay the bills? Can they pay off their student loans? Can they afford to pay for gas, housing?" Critical issues."
This is not the first time a Democrat received backlash over comments about Trump.
Former Vice President Joe Biden, a possible 2020 candidate, made headlines in March when he said he would "beat the hell" out of Trump back in high school for disrespecting women.