Selena Gomez poses topless, said 'world was against' her and Bieber during bumpy relationship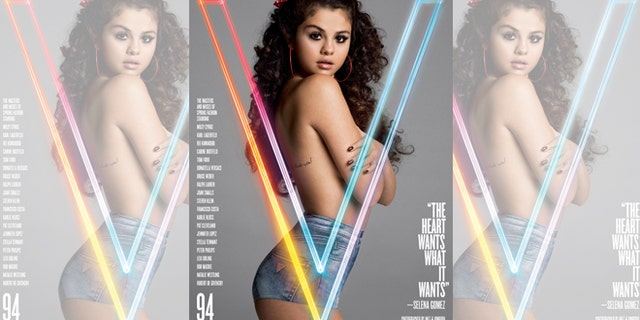 NEWYou can now listen to Fox News articles!
Selena Gomez has really shed away her Disney Channel innocence with a new spread on V magazine, posing topless on the cover.
The 22-year-old singer-actress wore nothing more than a pair of high-waisted jean shorts, red hoop earrings and a polka-dot bow on the issue out on Feb. 26.
But soon after the spread hit the web, she began getting heavily criticized by fans, who called it inappropriate because they believe she was purposely made to look way younger in a Lolita-like pose.
"How disturbing is @selenagomez' topless shoot for @vmagaine?," one person tweeted. "She looks like an absolute 12-year-old. What is up with that make up?"
Another person tweeted: "It weirds me out that #selenagomez posed for vmag & they made her look like a 12 year old child pageant contestant in skimpy clothing."
Gomez has not commented on the criticism. But in the interview with V magazine, she opened up like never before about her relationship with Justin Bieber, though she did not mention his name.
"I think the next time (I have a boyfriend) will be much different… which will definitely not be anytime soon," she told James Franco, who conducted the interview for the magazine. "That's a growing up kind of thing. I was 18 years old, and it was my first love. The older I get, I'm guarding certain things more."
Gomez had an off-again, on-again relationship with Bieber for about three years. More recently she has been linked to artist Zedd.
"When you're young and you're being told so many different things … it almost felt like all we had was each other, like the world was against us, in a way," Gomez confessed. "It was really weird, but it was incredible. I would never take it back in a million years. You live and you learn, you know?"
The former "Wizards of Waverly Place" actress also revealed that living such a public life, constantly under the microscope, caused her some "anxiety."
"There were a few months where I was a little depressed, where I wouldn't leave (my house) as much," Gomez said. "I think I drove myself crazy for a little bit. It was just easier to say, 'Hey, do you mind running to the grocery store and picking some stuff up? I don't want to get photographed.'"
Now, she tries not to focus on the rumors and the speculation, saying she doesn't read anything about herself anymore.
"I don't spend time tiptoeing around certain things, because the things I'm going to do aren't bad," she said. "I'll be 23 soon and I could go to a bar or go to the movies. I could do what I like."
Despite the ups and downs she experiences, Gomez said she can't help but feel excited for the future.
"I think this year is going to be incredible. I feel the best I've ever felt in my life," she said. "I'm super stoked that I've got some bumps on me, some scars, some bruises. I actually really love that. And I don't mean that in a morbid way."
Like us on Facebook
Follow us on Twitter & Instagram