Scarlett Johansson and Miley Cyrus get political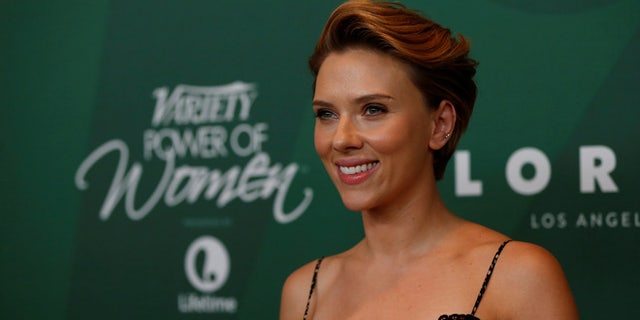 "We're here to celebrate women and their p—ies!"
That's how Rachel Bloom, host of Variety's 2016 Power of Women L.A. luncheon, presented by Lifetime, kicked off the star-studded event, held at the Beverly Wilshire Hotel on Friday.
Bloom's opening remarks — a clear nod to the recent Donald Trump tapes — were some of the many strong comments from the honorees referencing the upcoming election.
"We here in Hollywood bear a great responsibility for what's happened in the past few years. You know it's taken a damn long time to get here," said Power of Women honoree Helen Mirren, discussing the progress for gender equality in the workplace. "In a few weeks, we'll see a real-life example of this … when women vote. And hopefully they'll change the landscape. It could not be more important. This is a defining moment."
Mirren — who was honored alongside Miley Cyrus, Scarlett Johansson, Ava DuVernay, and Laverne Cox — continued to speak about the importance of women voting next month.
"I feel there is an earthquake and there is a real, real possibility for change [that] will have an incredible impact all over the world," Mirren said. "It's time for the best role model in the White House."
The Academy Award-winning actress brought up to the stage a 12-year-old boy, Ruben, from the charity for which she was honored, SAY: The Stuttering Association for the Young. (LORAC matched Variety's donation to SAY, and Frederique Constant donated timepieces to Mirren and all of the honorees' charities to be auctioned off.)
Mirren was welcomed to the stage by director Gavin Hood, who made waves in the ballroom with his greeting. "Good afternoon, ladies, and gentlemen — gentle men. Not violent men, vulgar men, or brutal men. … Not cowardly crass or crude men, men who understand that what we say and how we say it matter. That words matter," he said, jabbing Trump's "locker room talk."
Cyrus passionately spoke about her charity, The Happy Hippie Foundation, which advocates for homeless and LGBT youth.
Coming up to the stage with a warm hug for "American Horror Story's" Jamie Brewer, who presented Cyrus with her honor, "The Voice" coach admitted that she was overwhelmed at the Power of Women podium, momentarily being placed in a position of power because of the "villainous vibes that surround power," she explained — and, "Yes, that's for Donald Trump," she clarified.
"I just want to say to anyone who has ever felt like they're different or they don't fit in, I want you to take that victory and feel like you're not alone," Cyrus said, wrapping up her speech. "I'm wishing for peace and love on our planet because hate and war has gone on way too long."
DuVernay, whose documentary "The 13th" is drawing attention this week, was presented by her team of representatives — five working women in the industry, including attorney Nina Shaw. When the "Selma" director came on the stage, she expressed the importance of her female reps to the room.
"What we put on screen is widely, monumentally important. But the way we go about our work is also important," said DuVernay, who is was honored for her work with #1000BlackGirlBooks. "For me, that includes representation and our representatives who speak for us in the industry. Those women have a struggle in a male-dominated industry. Everything matters. Not just what's on the screen, but the way we go about what goes on the screen. The people that you work with … are vital."
Likewise, Spanx founder Sara Blakely, who was the recipient of Variety's innovation and leadership award this year, spoke about paying it forward for working women — specifically inventors, like herself.
"I truly believe the world would be a better place if the male and female energy on the planet was more balanced. I think the energy has been out of balance for, oh, 3,000 years now. I just can't help but think we would be in a better place if women had a larger voice at the table," Blakely said. "I accept this award for all the women who continue to innovate. May they make the world a better place — one butt at a time."
Cox, who's gearing up for Fox's "Rocky Horror Picture Show" remake next week, also spoke about the wild election cycle when she was talking about the National Coalition of Anti-Violence Programs. She was introduced by her "Rocky Horror" co-star Victoria Justice, who arrived to the luncheon in an Audi, which provided transportation for the honorees.
"I am so completely overwhelmed to be here alongside such a group of incredible women. It is a big deal that I am here. It is a big deal when a transgender woman is included in women spaces," Cox said, telling stories of violence among the trans community, and raving about NCAVP's efforts to end that violence. "With the current campaign for president, we see that so often we are not able to have conversations with love and empathy. There is not enough love and empathy in the world."
Each event, a man is honored at Variety's biannual luncheon — held both in Los Angeles and New York each year, honoring women in the entertainment industry who use their visibility to raise awareness for charitable causes — for his support of women in the entertainment industry. Rosanna Arquette introduced this year's recipient of the empowerment award, Universal Music Group's Sir Lucian Grainge, who spoke about the many female executives who work at his company. "If you think about the math, it's quite simple, in a world where half the people are women," he cracked.
Marchesa's Georgina Chapman was also recipient of a special honor this year: the Moroccan Oil inspiration to action award. Model Jasmine Sanders introduced the co-founder of the fashion house, who was on hand for her work with Magic Bus USA.
Robert Downey Jr. presented honoree Johansson with her award, and the "Iron Man" star was a hit among guests, who feasted on honey lemon-glazed black cod, chocolate tarts, and white chocolate mousse, while enjoying the event's DJ and musical director Daisy O'Dell. The "Avengers" actor gushed about his costar's work with Planned Parenthood, saying, "She's utilized her worldwide visibility … she is a true ambassador for women's health initiatives."
Johansson equally wowed the room, speaking about her fears of the election cycle when it comes to women's rights.
"As most of you know, Planned Parenthood has been under attack for many years now for another service they thankfully offer — providing a safe place for legal abortions," Johansson said. "A women's right to choose what to do with her body shouldn't just be a women's rights issue — it's the year 2016 and this is a human rights issue. A women's right to choose is a deeply personal one and should not be a part of anyone's political platform. It has nothing to do with politics in the slightest. It is about honoring and respecting women and upholding the law. … It is time we all stand united so this conversation is taken off the ballot, so to speak, and out of the mouths of politicians."