Sandra Oh misses out on making history at the Emmys and people are upset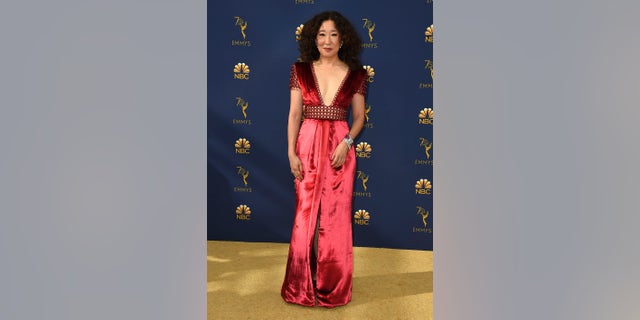 Sandra Oh came close to making history at the Emmys.
The 47-year-old actress missed out on becoming the first woman of Asian descent to win an Emmy in the lead actress category, in either comedy or drama, at the 70th Primetime Emmy Awards on Monday night. Oh already made history as the first Asian woman to be nominated in for her stellar lead performance as MI-6 agent Eve Polastri in BBC America's critically-acclaimed series, "Killing Eve."
Claire Foy, who was named this year's winner, even acknowledged that she was a surprising choice for the Outstanding Lead Actress in a Drama Series Emmy category. "This wasn't supposed to happen," Foy said when she took the stage to collect her first career Emmy. "Sandra Oh, I just love ya."
Fans on social media took to Twitter to express their feelings on Oh's close Emmy call, many feeling she was robbed:
Before the Emmy telecast, Oh opened up about the significance of her nomination, but cautioned people to be patient, as progress takes time, she said.
Sandra Oh Reacts to History-Making Emmy Nomination: 'I Share This Moment With My Community'
"Images are extremely important to culture, and being a part of that image making, I take a great responsibility, and I'm very grateful for my job to be able to do so. I hope that the wave continues and we see real change," she told ET's Kevin Frazier at the Emmys carpet on Monday. "But it's also [important] to be patient, you know what I mean? Because change is slow and I don't want people to ever give up on it."
Emmys 2018: Sandra Oh Is the First Asian Woman Nominated in a Lead Actress Category
"We can talk about how long it is, but change does take a long time, so the more that we talk about it, the more that we have opportunities to be in front of an audience, to say, 'Hey, we're a part of culture too,' I think just the better," Oh added.
Oh's near-Emmy victory would have been a huge accomplishment for Asian actors in Hollywood, as she was the first Asian woman to be lauded by the Television Academy for a lead performance. Oh's would be-achievement would have come at a crucial moment in her career; "Killing Eve" marked her first major lead role after a solid career in supporting parts. Prior to this year, Oh previously earned five Emmy nominations in the supporting drama actress category from 2005 to 2009 for her portrayal of Dr. Cristina Yang on "Grey's Anatomy," but never won.
Oh, who is Korean-Canadian, was up against formidable competition in the Outstanding Lead Actress in a Drama Series category, which included last year's winner Elisabeth Moss for "The Handmaid's Tale," Foy for "The Crown," Tatiana Maslany for "Orphan Black," Keri Russell for "The Americans" and Evan Rachel Wood for "Westworld."
Emmys 2018: Presenters Include Sandra Oh and Kit Harington
Previous actors of Asian descent to win acting Emmys for their performances are few and far between. In 2010, "The Good Wife's" Archie Panjabi -- who is British-Indian -- was the first to win an acting Emmy, for Outstanding Supporting Actress in a Drama Series. In 2017, Riz Ahmed -- who is British-Pakistani -- was the second to win for "The Night Of" in the Outstanding Lead Actor in a Limited Series or Movie category. Ahmed was also the first Asian actor, male or female, to win an Emmy for a lead role.
In the 10-episode "Killing Eve," Oh plays Eve, a bored, desk-bound MI-5 officer who becomes entrenched in the high-stakes world of a brilliant psychopathic assassin, Villanelle (Jodie Comer) -- the latest killer she's been ordered to bring down. As their cat-and-mouse game intensifies, Eve's obsession with Villanelle reaches dangerous proportions. It's a character that holds special meaning for Oh, who spent most of her film and television career in largely supporting parts.
Following her history-making nomination in July, Oh issued a statement to ET expressing her joy. "I feel tremendous gratitude and joy with this nomination. I am thrilled for [creator] Phoebe Waller-Bridge's nomination and for the entire cast/crew of 'Killing Eve.' I share this moment with my community," she said. "P.S. I think my mother at this moment may actually be satisfied."
In an interview with the New York Times, Oh welcomed her historic Emmy nomination, saying in July, "We've got to start somewhere. And I'm happy to get that ball rolling, because what I hope happens is that next year and the next year and the next year, we will have presence. And the presence will grow not only to Asian-Americans, you know, from yellow to brown, but to all our other sisters and brothers... If I can be a part of that change, like [expletive], yeah, let's celebrate it."
As one of just a handful of visible Asian actors working in film and television, Oh was candid when she spoke with ET in January about the importance of making sure she played her part in showing that people who looked like her are capable of subverting stereotypes.
"I feel acutely aware of how important it is and I absolutely want to be a part of it in the best way possible," Oh said while promoting "Killing Eve." "The best way possible that I know how is to find the most interesting material and to do my best work for it. It's too important to not care about it or to not try and be out of the box in some sort of way."
"The central voice of the show is a woman. The lead characters are women," she continued. "The people producing are women. There is still a lot more work to do in diversity in front and behind the camera, but to be actively involved in creating something... Where can I go and see myself in some way?"
Oh said she hopes the Asian community continues to be proactive about getting their voices and stories out into the world (a la the uber-successful "Crazy Rich Asians," Netflix's acclaimed teen romance "To All the Boys I've Loved Before," John Cho's equally revered thriller "Searching" and TV's "Fresh Off the Boat"). As she tells it, she feels more comfortable navigating this through creative avenues with color-blind roles like "Killing Eve" rather than politically.
"Definitely understanding deeply that it's not enough and to encourage our own community to find its own voice in its own way, that's one thing that I feel we have not found our own footing yet. Because it has to be from us, uniquely in us, and there's a lot to explore in that because Asians are very, very diverse," Oh said. "Having been actively working in this space, where there has not been much representation at all and being [one] of the only visible faces, I feel like this is the only way that it works for me, I only look at it creatively. Any other way just isn't right for me."