Roy Moore says he's suing Sacha Baron Cohen, Showtime, CBS over 'Who Is America?' interview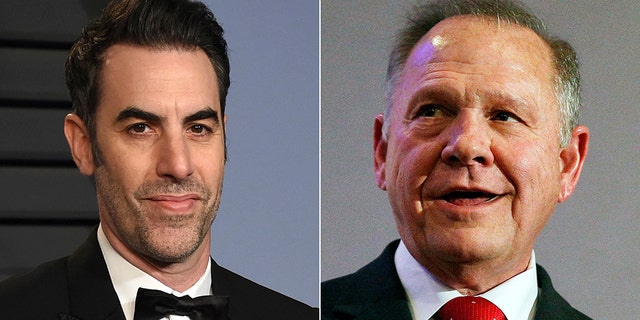 Former U.S. Senate candidate Roy Moore says he's filed a lawsuit against comedian Sacha Baron Cohen, Showtime and CBS over a controversial interview Cohen did with him earlier this summer on his "Who is America?" TV show.
In the lawsuit filed Wednesday in the U.S. District Court for the District of Columbia, Moore and his wife, Kayla, allege that they suffered defamation, intentional infliction of emotional distress and fraud as a result of the defendant's actions.
The lawsuit claims that Cohen, as well as the two companies, "set up scenarios where Defendant Cohen, while in character, falsely and fraudulently induces unsuspecting victims, such as Judge Moore to be interviewed under dishonest, unethical, illegal and false pretenses, for his works.
"Defendant Cohen and his agents then set these unsuspecting victims up for ridicule and to severely humiliate them on film to promote his works and to generate large financial returns for himself," the lawsuit continued.
Moore is among other public figures – including broadcast veteran Ted Koppel and former Alaska Gov. Sarah Palin – who claim they were misled about their interviews for the show.
SACHA BARON COHEN REPORTEDLY DUPES TED KOPPEL, ROY MOORE, JOE ARPAIO; RESPONDS TO PALIN CRITICISM
Moore claims in the lawsuit that he and his wife traveled to Washington D.C. in February under the pretense that he would appear on a show produced and broadcasted by Yerushalayim TV, "which does not actually exist," the lawsuit said, and he would "receive an award for his strong support of Israel in commemoration of its 70th anniversary as a nation state."
"This ceremony, and presentation of this award, Defendant Cohen falsely and fraudulently represented was to occur during the interview," according to the lawsuit.
If Moore had been aware that he was being "fraudulently induced" into participating with the interview and that "the promise of a bona fide award was a ruse," he would not have agreed to it, the lawsuit said.
"During the segment that featured Judge Moore, Defendant Cohen – while falsely and fraudulently disguised as the character as Erran Morad, a supposed Israeli anti-terrorism expert and former Mossad agent – falsely painted, portrayed, mocked and with malice defamed Judge Moore as a sex offender, which he is not," the lawsuit said. "Mrs. Moore was forced to endure the effects of this interview."
In the segment, Cohen as Morad introduced "technology" that he said beeps when in the presence of pedophiles. When the machine is introduced in the segment it continually goes off when brought next to Moore.
As a result of the interview, the lawsuit alleged that Moore's reputation was "severely harmed" and brought "severe emotional distress" and "financial damage" to the Moore family.
SARAH PALIN BLASTS SACHA BARON COHEN, SAYS SHE WAS FOOLED INTO DOING INTERVIEW
The lawsuit said that Showtime and CBS were included as defendants due to their alleged lack of action regarding Cohen's conduct in regard to the interview.
After learning that the Moores were "fraudulently induced" to appear for the interview and that it would be aired on television, his lawyer issued "a preemptive notice" to the defendants "warning them that Plaintiffs would resort to appropriate legal remedies if they chose to air the segment," the lawsuit said.
"In the preemptive notice, Defendants CBS, Showtime and thus Cohen were informed that the release that Judge Moore had signed was obtained through fraud, and was therefore void and inoperative," the lawsuit said. "CBS and Showtime failed to take remedial action for Defendant Cohen's actions, and therefore at a minimum adopted his actions and are jointly and severally liable."
In a statement to Fox News, a Showtime spokesperson said, "The press has been sent copies of an alleged complaint, yet to our knowledge Showtime has not been served. With that said, we do not comment on pending litigation."
A representative for Cohen, as well as CBS, did not immediately respond to Fox News' request for comment.
The lawsuit seeks "damages in excess of $95,000,000," in addition to attorney fees and costs.
Fox News' William Mears and Ryan Gaydos contributed to this report.