Rosie O'Donnell reveals she's engaged to military veteran Elizabeth Rooney
Rosie O'Donnell has confirmed she's engaged to girlfriend Elizabeth Rooney after weeks of speculation that the couple were set to be wed.
The former "View" co-host revealed the news to People during the 15th-anniversary celebration of her organization, Rosie's Theater Kids, in New York City. She told the outlet that while they're definitely engaged, it's far too soon for them to have picked out a wedding date. In fact, O'Donnell notes that it may be a long time away.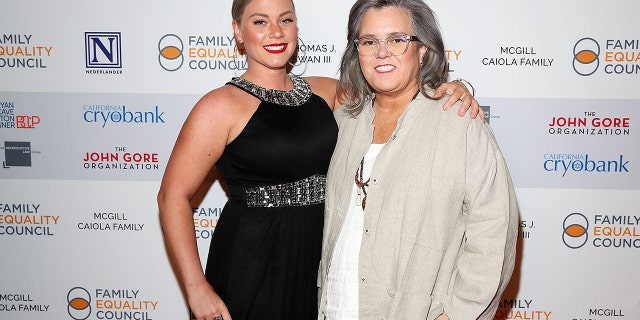 "She lives in Boston now and I live here in New York. It's been a long-distance thing. It's been great. I think she's a wonderful woman," the star said of her new 33-year-old fiancee, a former Army veteran and boxer.
"She's very much an equal, she's very much her own person and loves what she does. She's a pretty unbelievable young woman," she added.
O'Donnell even took the opportunity to comment on their 23-year age difference, noting that Rooney tends to lean on her time in the military to fend off any potential criticism or doubt.
"I keep telling her I'm too old for her. But she doesn't seem to care," O'Donnell said. "She's like, 'I was in the Army! I put my life on the line every day you think I don't know who I want to date?' I'm like, 'Alright I guess that's true.' She has a lot of good points."
The star was previously married to Michelle Rounds, who died of an apparent suicide in September 2017. She was also previously married to Kelli Carpenter-O'Donnell from 2004-2007. They shared daughter Dakota, 5. She has four children in total including son, Parker, 23, son Blake, 18, daughter Vivienne, 15 and estranged daughter Chelsea, 21.
The former comedian made headlines earlier this week when she appeared on MSNBC to suggest that the U.S. military go into the White House and get Trump out of office.