'Roseanne' spinoff 'The Conners' gives first look at the cast at work in a very familiar place
NEWYou can now listen to Fox News articles!
With Roseanne Barr officially out at ABC, many are wondering how different the upcoming spinoff series to her self-titled show, "The Conners," will be. Thanks to a set photo from the first day of production, fans now know that the answer to that question is - not a whole lot.
In the new image, the entire cast, minus Barr herself who will neither profit financially nor creatively from the project, sits around the familiar kitchen set reading scripts for the first episode. Many fans wondered if the series would get a fresh coat of paint in terms of sets or location of the family. Now they know for sure that "The Conners" will still take place at the family home in Lanford, Illinois.
Returning stars include John Goodman, Laurie Metcalf, Sara Gilbert, Alicia Goranson, Emma Kenney, Ames McNamara, Jayden Rey and Michael Fishman.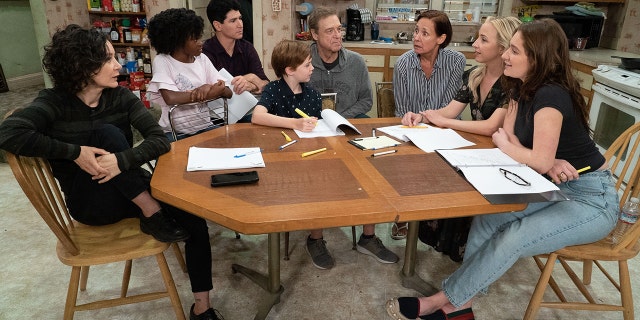 This was previously hinted at in the first teaser for the series, which poked fun at itself as well as the controversy it endured following Barr's firing over a racist tweet directed at former Obama aide Valerie Jarrett. The brief video shows the familiar living room set, completely empty while the song "Anticipation" by Carly Simon plays. Text flashes across the screen asking the audience, "What's next?"
The moment feels like an obvious wink to life without Roseanne Conner in the series. It's unclear at this time how Barr's character will be written out of the show. However, Goodman recently revealed in an interview that she would be killed off, although there is no official confirmation that he has any knowledge of what the plan is.
"The Conners" premieres in October.