'Roseanne' earns praise from Larry King for 'great political balance,' take on Trump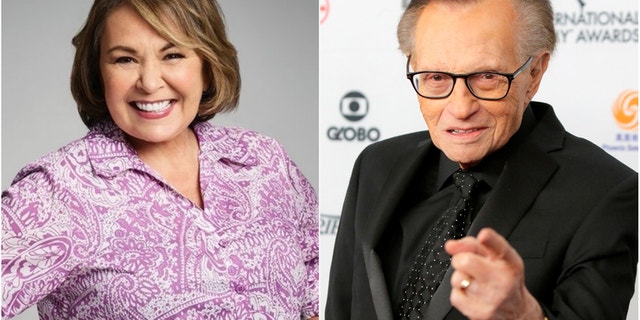 It seems Larry King is a fan of "Roseanne."
The former talk show host raved about the Conner family in an interview with Us Weekly on Tuesday, telling the magazine that he appreciates the "Roseanne" reboot's take on the current political climate in the country right now.
"It's a great political balance of Roseanne liking Trump and her sister not," King, 84, told Us Weekly of the show's premiere. "The writing on the show is so great. You have these two great characters and Roseanne is such a unique person."
King said he's always been a fan of both Barr and her co-star John Goodman, who plays Roseanne's husband, Dan, on the show.
"The writing on the show is so great. You have these two great characters and Roseanne is such a unique person."
"I've always liked Roseanne [Barr]. I think that John Goodman is such an underrated actor as well. I think the show is great," the television and radio host added.
'ROSEANNE' SECOND WEEK RATINGS REVEALED
While Barr is a talented actress, King joked there is one area that could use some improvement: her singing voice.
"She can't sing the national anthem," said King, referring to Barr's off-key performance at a 1990 Padres game in San Diego. "Don't let her do that again!"
Her rendition of the patriotic song was so poor, even President George H. W. Bush called it "disgraceful." And the performance has haunted her ever since.
Barr told Sirius XM in a July 2012 interview that she went from being a "beloved" person to a "despised and hated" person overnight.
"I started too high. I knew about six notes in that I couldn't hit the big note," she admitted. "So I just tried to get through it, but I couldn't hear anything with 50,000 drunk a--es booing, screaming 'you fat f---,' giving me the finger and throwing bottles at me during the song they 'respect' so much," Barr once again explained to The Washington Post in a July 2015 interview, promising that she is, in fact, a "good singer."
But the actress, 65, has since been able to joke about the viral incident. She recently poked fun at Fergie's dramatic version of the national anthem at the 2018 NBA All-Star game.
"Who saw Fergie's national anthem performance at the NBA All-Star Game?" Barr tweeted on Feb. 19. "I think mine was better lowkey [sic]."
Now everyone is talking about the return of the Conner family after a 20-year hiatus. The sitcom star is back on top with the "Roseanne" reboot, drawing just over 18 million viewers last week for the show's premiere, which focused heavily on politics. The second week of the series drew an impressive 15 million viewers.