Ronda Rousey confirms engagement to Travis Browne with funny Instagram post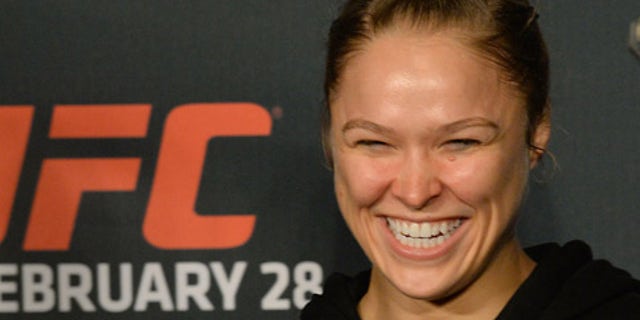 Ronda Rousey is engaged, and she doesn't care who knows it!
The MMA fighter took to Instagram on Saturday to confirm her engagement to Travis Brown with a hilarious Instagram post.
RELATED: Ronda Rousey Shows Off Super Ripped Body Ahead of Amanda Nunes UFC Fight
"@travisbrownemma," Rousey captioned a photoshopped pic of herself holding Brown in a wedding dress, as he holds a sign reading, "Just engaged."
RELATED: Ronda Rousey Reveals Upcoming Fight Will Be One of Her Last: 'I'm Wrapping It Up'
Browne reportedly proposed to the 30-year-old athlete under a waterfall in New Zealand.
"We're getting married," Rousey told TMZ earlier this week, showing off her massive sparkler. "[The wedding will be] soon, [but I have] no idea what goes into planning a wedding."