Ronald Reagan, George Washington and JFK items up for bid at celeb auction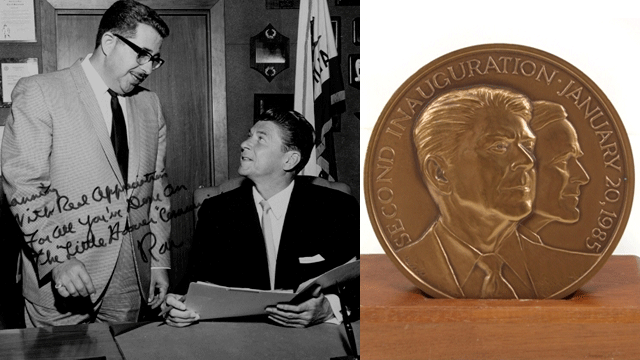 Ever wanted to own a handwritten note from Ronald Reagan or George Washington's signed army discharge document?
Well now's your chance!
This week entertainment and celebrity auction house Julien's Auctions announced its forthcoming "Hollywood Legends" event, selling off legendary costumes, props and personal items from screen stars and political powerhouses.
The exhibition, open to the public from March 19 through March 30 at Julien's Beverly Hills gallery, features memorabilia such as a signed photograph of Ronald Reagan and an associate, inscribed "To Manning, With real appreciation for all you've done on the 'Little Hoover' campaign, Ron," with a projected value of $200-$400.
A 16 inch Lawrence Ludtke bronze statue of the former President in a walking pose is also on display, with a value of $600-800, in addition to a President Reagan bronze medal with the likeness of Reagan and George H.W. Bush, engraved "Second Inauguration/January 20, 1985" and "President Ronald Reagan/Vice President George Bush," which has a projected value of up to $800.
Then there's George Washington's signed army discharge document, which has an estimated value of $6,000 to $8,000. It is also signed by Jonathan Trumbull Jr., Secretary to Washington for the duration of the Revolutionary War. Although undated, the document is thought to be from 1783.
Bidders can also vie for an 1807 Thomas Jefferson and James Madison signed document which has an estimated $3,000 value, in addition to Jefferson's signed 1808 naval appointment ($3,000-$5,000). Abraham Lincoln's signed 1861 military document is also available ($3,000-$5,000), as well as John F. Kennedy's Boston-Style Rocking Chair, which has a projected bidding price of $50,000 to $70,000.
"We continue to see political memorabilia grow in popularity and value. Just like the enormous attention the Hollywood Legends auction has been getting, the political memorabilia being offered which includes items from George Washington, John F. Kennedy and Ronald Reagan have definitely been of great interest to bidders from all over the world," Darren Julien, President and CEO of Julien's Auctions, told FOX411's Pop Tarts column.
Auction highlights from the Hollywood crowd include several dresses from the late Whitney Houston and jewelry from "The Bodyguard," a John Wayne engraved sterling silver cigarette case (estimated $1,500-$2000), Greta Garbo's red rain boots ($800-$1,200), an Alfred Hitchcock self portrait ($6,000-$8,000) James Dean's pants from "East of Eden" ($1,000-$1,200) Marlon Brando's signed Directors Guild card ($400-$600), Frank Sinatra's jacket ($1,000-$1,200) and Natalie Wood's slip from "Cat on a Hot Tin Roof" ($600-$800.)
The live Hollywood Legends Auction event will take place March 31 and April 1, and includes real time online bidding.