Romeo Santos Has Una Nueva Aventura With "Formula Vol. 1"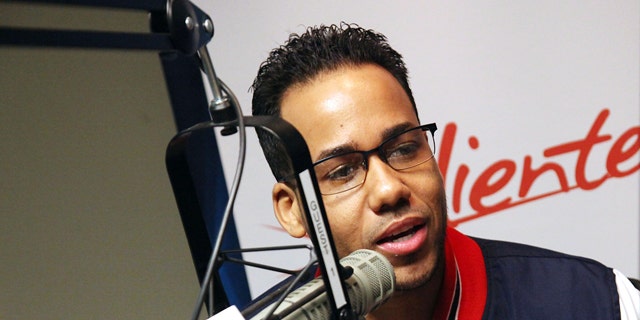 Anthony "Romeo" Santos' next aventura could be dealing with all the crossover success.
With over nearly 2 million albums sold, the lead singer of the multi-platinum Urban/Bachata group Aventura – whose new album debuts Tuesday and who is going to perform with Usher at the Latin Grammy's Thursday – is an official Latin music superstar.
Since 1994, Aventura saw their fan base explode exponentially. The group performed to sold-out crowds at venues like New York's Madison Square Garden and the Los Angeles Staples Center.
Romeo wrote most of the songs, infusing English slang into Spanish lyrics over rhythms that often combined the traditional Dominican genre of Bachata with the American genres of Hip Hop and R&B.
But it was Santos's falsetto, romantic whispers and stage presence – not to mention popularity among the ladies – that all but cried for solo album.
With the 2002 hit "Obsesion," Aventura flirted with that ever elusive crossover success. Now with the release of an album, Santos is trying to do just that.
If the success of the album's singles are any indication, the upcoming release of "Formula Vol.1" could do well on the charts. His first release, "You," spent seven weeks at the top spot of Billboard's Hot Latin songs chart while his second, "Promise," featuring Usher, is already in its third.
While on his pre-album media tour, FNL grabbed 15 minutes (literally) with Santos and asked him about singing Bachata with Usher, his new role as actor in an ABC family comedy, and why tweeting isn't his thing.
FNL: Romeo, thank you for squeezing us in. I just finished listening to your latest single, "All Aboard," with Lil Wayne. It must be exciting to work with these big acts. Tell us about your new album.
RS: It's an album that offers a lot. I didn't want to abandon Bachata, so I would say 70 percent of it is Bachata, but I had to experiment with other genres. I have a Pop Rock song with Mario Domm of Camila, a track with La Mala Rodríguez that is more of an urban tune; I got one with Pit[bull] and some Bachatero tradicionales. I even have a song with Tomatito, a very famous Flamenco guitar player.
FNL: That does sound like a lot. You've hinted in the past that you wanted to collaborate with mainstream artists on Bachata tracks.
RS: It all started because people wanted to know what I was going to do after Aventura, what I was going to offer that was different. So I said I wanted to get the big stars from the Anglo market to sing Bachata. I just said it, but I knew making it happen wasn't exactly going to be a walk in the park.
FNL: Well, you accomplished just that with your last single, "Promise," featuring Usher. How was the experience of recording with the Grammy award winner?
RS: When Usher accepted, I was honored. I realized that I would again revolutionize Bachata. He is a great vocalist and knew exactly what to do – I would only have to say things once. The only thing that took us a little while was when he insisted on singing in Spanish. He is such a professional and wanted it to sound natural and not like he was forcing it. But if you hear the harmony towards the end, he nailed it. It was an overall great experience.
FNL: Bloggers have said that Aventura created a style of Latin music that has "the most distinctively New York sound since the celebrated days of the Fania All Stars." In terms of Latin music, that is a pretty huge comparison. How does that feel?
RS: I mean, who doesn't know about Fania? That is big. I am just happy that people are able to just appreciate what we tried to do in Bachata. To kind of reinvent tradition, to keep innovating. The comparison is a total honor.
FNL: So what's this about acting? We understand that the Fresh Prince himself has tapped you for an untitled new ABC Comedy.
RS: (laughs) I was very surprised because I have never acted professionally. I mean, I act on stage, but that is a different world. Will Smith and his company reached out and I think it's going to be a fun project, because muestra como piensan nuestros padres tradicionales (it shows how our traditional parents think) and how it is different for la juventud (the youth).
FNL: Did you ever run into obstacles with the older generation in your family, like your character in the show?
RS: In the show my father owns a restaurant and wants the whole family to work there but instead I am trying to be an entrepreneur. I can relate to that in my own personal life because I had a father that was very traditional. [Pursuing music] was extremely difficult, but we had to stay optimistic. You are always going the have critics, but we knew we were doing something special.
FNL: OK, so what's your beef with tweeting?
RS: For the most part, I think it is a great marketing tool and I have benefited from it, but I personally don't tweet much. I check the messages and who is following but I still believe in the magic of not knowing everything about the artist. I think it's funny that I sold all these records but people still say, "He doesn't tweet?!"
FNL: My 15 minutes are about up, what's next, tour dates?
RS: We have not announced any tour dates yet, but we are looking at February. Right now it's all about the album on November 8 and, of course, I am performing my single with Usher for the first time at the Latin Grammy's on the 10th.
Get the earplugs ready – the screams that result from this live performance may be heard nationwide.
Erica Y. Lopez has written for ABCNews.com and is a freelance writer for Fox News Latino. She can be reached at Ericaylopez@gmail.com or via Twitter: @Lalosays
Follow us on twitter.com/foxnewslatino
Like us at facebook.com/foxnewslatino