Robin Wright breaks silence on Kevin Spacey scandal: 'I didn't know the man'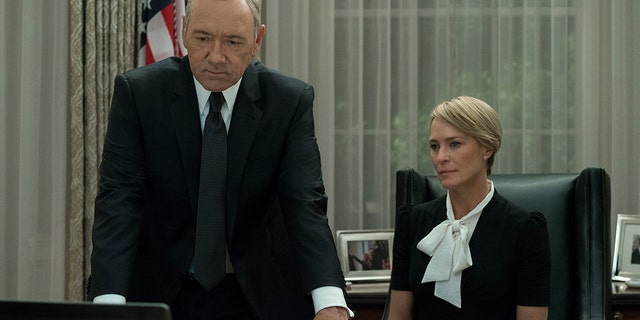 "House of Cards" star Robin Wright is opening up for the first time about the downfall of her co-star Kevin Spacey, which came after Spacey was accused of sexual assault by one man who claimed the actor made an advance on him when he 14 and Spacey was 26. Several other men have since come forward and accused Spacey of sexual misconduct, and Wright now says she hardly knew her longtime co-star.
The actress spoke out on the "Today" show in a pre-taped interview that aired Monday.
She said she has had no contact with her former co-star.
"I haven't heard from him and I don't even know how to reach him," she said.
"Kevin and I knew each other between action and cut, and in between setups where we would giggle," she added. "I didn't really– I didn't know the man. I knew the incredible craftsman that he is."
She added, "We were co-workers, really. We never socialized outside of work. [We had a] respectful, professional relationship. He was so great with me. He was never disrespectful to me, so that's my personal experience. That's the only thing I feel that I have the right to talk about."
She said when the allegations surfaced, she was taken aback. Following the allegations against Spacey, in October 2017, Netflix announced the show's upcoming sixth season would be its last and Spacey was fired from the show.
"I think we were all surprised, of course, and ultimately saddened. We forged ahead and we were so thankful that we were able to complete the series as planned," Wright said.
Wright said she understands Netflix's decision to shut down the show.
"...I think at that time, the shock was so intense all over the nation for many reasons, many stories, many people. I think that everybody felt that it was respectful to back off."
"House of Cards" premiered on Netflix in February 2013 and was a hit for the streaming service.The eight-episode sixth season does not yet have a set premiere date but is expected to hit Netflix later this year.