Robert Herjavec engaged to 'DWTS' partner Kym Johnson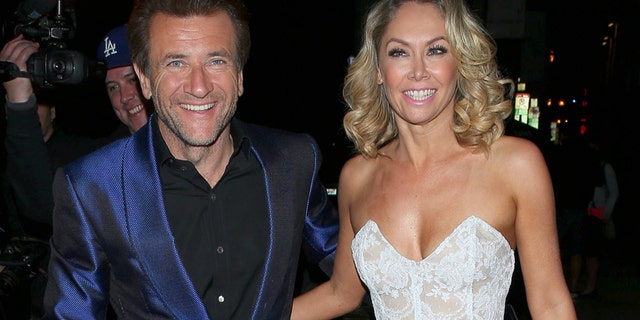 Kym Johnson has confirmed she is engaged to her former "Dancing With The Stars" partner Robert Herjavec.
The couple met in 2015 when they were paired up for season 20 of "Dancing With The Stars," and started dating ten months ago. They were eliminated from the contest but their off-screen romance continued.
Herjavec, who made a name for himself starring in "Shark Tank," told People magazine that he proposed to Johnson with a 6.5 carat ring.
Johnson, 39, said she never thought that she would meet someone "who would change my life completely!"
"I'm the luckiest girl in the world because the love of my life Robert Herjavec asked me to marry him and I said yes," she posted alongside a picture on Instagram.
The proposal was topped off with a party with their closest friends, including Johnson's mother who flew in from Australia and former "Queer Eye for the Straight Guy" star Carson Kressley.
"To celebrate tonight with our family and friends, and my mom who flew in from Australia, wow – I'm just overwhelmed and so happy. He's a wonderful man and I'm so lucky," Johnson told People magazine.
Herjavec described Johnson as a "an incredible woman." "I'm just so excited for what the future brings for us," he said.
The 53-year-old millionaire announced his divorce from wife Diane Plese at the start of 2015 shortly after rehearsals for "Dancing With The Stars" began, and then sparked rumours of a romance with Johnson after they locked lips during a fiery dance routine.
At the time, Johnson told US Weekly the kiss was just part of the routine.
She then confirmed in January that their friendship had "developed into something else".
"We're both each other's number one fans, and have respect for each other," Johnson said.
The union will be Johnson's first marriage, while Herjavec has three kids with Plese.