Ric Flair's daughter Charlotte cast as villain in 'Psych: Movie'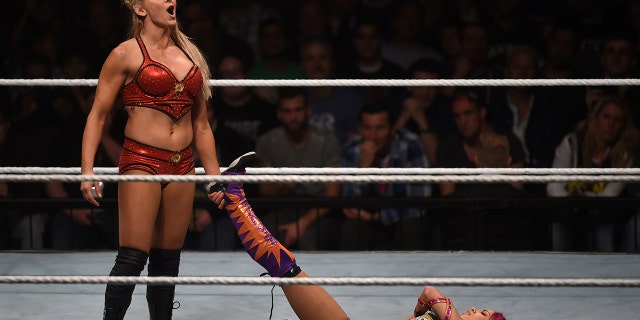 "Psych: The Movie" just got a bit more dangerous. The flick's fake psychic detective will now be going up against WWE superstar Charlotte Flair, who will make her acting debut in the film.
According to TV Guide, four-time WWE Women's Champion wrestler is joining the reunited "Psych" cast as a villain in the upcoming TV movie. Many may know Flair from her time in the ring, but others may know her as the daughter of famed wrestling legend Ric Flair, who retired in 2008. The addition of a WWE star is nothing new for "Psych," which featured several big names during its eight-season run including, John Cena, Big Show, Mickie James and more.
More: Dwayne 'The Rock' Johnson hangs out with WWE stars
Flair's inclusion will mark the 31-year-old's first foray into the world of acting. However, this will hardly be her first time in the limelight. She's made a big name for herself since her debut in the ring as the WWE and continues to make an active effort to showcase the women of WWE. According to Forbes, she made history by competing in the first ever pay-per-view match headlined by women when she took on Sasha Banks in 2016.
Charlotte will play Heather Rockrear, the sidekick to previously-announced main villain Thin White Duke. The Duke will be played by former "Chuck" star Zachary Levi, who, according to Entertainment Weekly, many fans hoped would guest star on the show during its original run.
"Psych" aired on USA Network until 2014, but the network recently revealed that core cast members James Roday, Dulé Hill, Timothy Omundson, Maggie Lawson, Corbin Bernsen and Kirsten Nelson will be returning for a two-hour holiday special set three years after the finale. The gang is reportedly forced to get on a case together after one of their own becomes a target.
"Psych: The Movie" is scheduled to air in December 2017.