Retired stuntmen who worked on 'The Wild Bunch'and 'Hooper' killed in traffic accident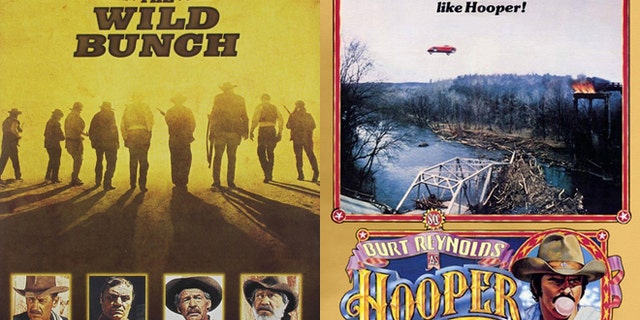 A pair of veteran Hollywood stuntmen who were old friends died during the weekend in a two-car crash in suburban Sacramento. The Merced Sun-Star reported that Bob Orrison, 86, and Gary McLarty, 73, were killed Saturday when their Chevy pickup was struck by another vehicle near Orrison's home in Rancho Cordova.
The paper said Orrison was making a U-turn and took "a direct hit" from a Jeep Cherokee, according to a local sheriff's spokeswoman. The two people in the Jeep were hospitalized with moderate injuries. These are people who spent their adult life doing dangerous things in a calculated way, McLarty's wife Hillorie told the Sun-Star. It defies my imagination.
Both men had scores of stunt credits dating to the 1960s. They worked together on Sam Peckinpah's classic 1969 Western "The Wild Bunch" and the previous year's "Bandolero!," which starred James Stewart, Raquel Welch, Dean Martin and George Kennedy. A decade later, both would do stunts on "Hooper," about a young hotshot stuntman (Jan-Michael Vincent) who butts heads with an aging legend (Burt Reynolds).
Loosely based on Hollywood stunt kingpin Hal Needham, it was a stuntman's tour de force, which showed behind-the-scenes shots of the stuntwork with the end credits. The two men also worked together on later films including "Rambo III," "Days Of Thunder" and "Road House."
Orrison, who had credits well into his 70s, worked on such stunt-filled projects as "Smokey And The Bandit" and its first sequel, "The Dukes Of Hazzard," "The A-Team," "Tango & Cash," "Die Hard 2" and "Stargate." He was at the wheel of the Big Blue Bus that leaped an elevated span of the then-uncompleted 105 Freeway in "Speed."
McLarty did stunts on films including "Hellfighters," the "True Grit" follow-up "Rooster Cogburn" starring John Wayne and Katharine Hepburn, "The Longest Yard" (1974), "The Terminator," two "Lethal Weapon" films, "Waterworld," "Showgirls" and the "Gone In Sixty Seconds" remake. He also was stunt coordinator on such movies as "The Blues Brothers," the first two "Beverly Hills Cop" pics, "Animal House" — McLarty rode the motorcycle up the stairs at the toga party — and the ill-fated "Twilight Zone: The Movie," which saw an infamous on-set accident claim the lives of actor Vic Morrow and two children.