Retired Porn Princess Tera Patrick Helping the Troops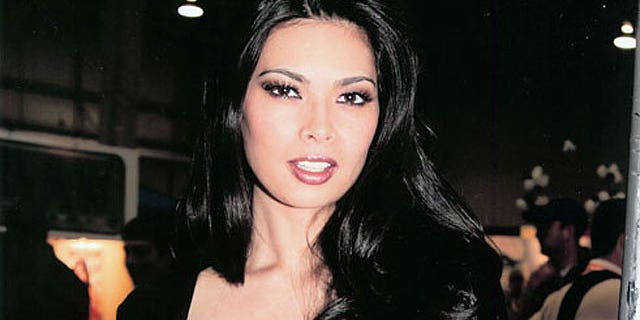 Tera Patrick is one of the biggest names in the adult industry – but apparently she's also working on becoming one of the biggest names in the defense industry too.
"I've done a couple of military tours, I'm extremely honored they even asked me," Patrick recently told Pop Tarts while promoting her new autobiography "Sinner Takes All." "I think that our troops are amazing; anyone that is willing to go out and risk their life for our country is so selfless. I have so many fans that are in the military that tell me they take my picture to Iraq and that helps them through."
Speaking of Patrick's fan base, one hip-hop mogul in particular even got a little star struck while in the presence of the porn princess.
SLIDESHOW: Click here to see more Tera Patrick photos.
"I met Kanye West at New York Fashion Week last year, he actually approached someone I was with and asked if he could get his picture with me and said I was so beautiful," the 33-year-old added. "Everyone is a fan of someone. I'm not nervous to meet anybody, but I'm a big fan of J.K Simmons. When I met him I was actually shaking, I couldn't think of anything to say."
However Patrick certainly does have a lot to say about her career, and her recently released biography captures the many trials and tribulations of life in the adult arena – including dramatic details of her nervous breakdown.
"When people go through trauma they deal with it in different ways, I had a nervous breakdown," Patrick said. "Today in my life I am very centered and very happy, writing the book was extremely cathartic. It has been a long journey but I'm in a very good place and I'm a very lucky woman."
So what is the biggest misconception people tend to have of the "Best of the Breasts" and "Where the Boys Aren't 18" starlet?
"People think, 'She must be stuck-up,'" Patrick said. "I've heard all the rumors about myself [such as] I demand Fiji water everywhere I go – ha, which I do. But I think that biggest misconception about girls in the industry is that we're forced to do it against our will and that's not true. I chose empowerment over exploitation and I chose to get into this business. I did it all on my own terms, I have my own company. I treat the business like business and because of that I have become very successful."
Patrick hit headlines in 2007 when her production company Teravision filed a lawsuit against fellow X-rated mega-star Jenna Jameson and Playboy Enterprises (the owners of Club Jenna), alleging that Playboy failed to account for and pay royalties on revenue earned from its management of Patrick's Web site Clubtera.com.
But according to Ms Patrick, the bickering is over and she and Jameson are totally back on good terms.
"It's funny because you grow up, we both are in different but good places in our lives," she said. "We've both contributed substantially to the industry, she's now a mother and I'm crossing over into mainstream (acting). I have nothing but nice words to say."