Red carpet gets underway at Emmys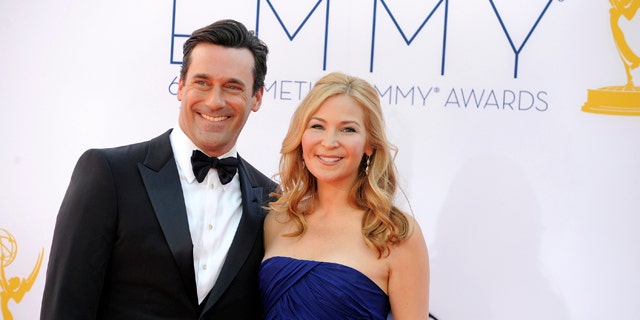 LOS ANGELES – Stars in stunning gowns and tasteful suits arrived on the red carpet Sunday under warm skies for an Emmy Awards ceremony in which records could be set, but hearts definitely will be broken.
"Mad Men" has a chance to snare its fifth best drama award, surpassing fellow record holders "Hill Street Blues," "L.A. Law" and "The West Wing."
The competition was hot and so was Los Angeles, where it was in the 90s. "It's so warm I thought a nice flannel tux would be appropriate," Jesse Tyler Ferguson of "Modern Family" joked. Of the heat, Amy Poehler said: "It's all the star power."
The red carpet was seeing plenty of red -- including on Kat Dennings in J. Mendel and Padma Lakshmi in a red strapless gown and Ginnifer Goodwin in red flame over champagne.
Padma Lakshmi looked gorgeous in a strapless, orange, mermaid-style Monique Lhullier gown, which helped her become a trending topic on Twitter. Another hot item: Zooey Deschanel, who had a manicure with little TV sets on her thumbnails.
Jon Cryer, a nominee for lead actor in a comedy series for "Two and a Half Men" didn't anticipate winning.
"This year I'm in the lead actor category, which is Alec Baldwin, Larry David, Don Cheadle, Jim Parsons," he said. "I'm not gonna win."
Sofia Vergara, a nominee for best supporting actress in a comedy for "Modern Family," waved away the tension. "Some people dread these events, I enjoy them. I love them," she said.
"Breaking Bad" and "Homeland" are among the series that could prove spoilers for AMC's sophisticated saga about 1960s America.
Bryan Cranston of "Breaking Bad" has a shot at his fourth best drama actor victory, which would tie Dennis Franz's record set in 1999 for "NYPD Blue."
If Cranston wins, that would leave "Mad Men" star Jon Hamm and Michael C. Hall of "Dexter" out in the cold for the fifth time.
Jimmy Kimmel is host of the ceremony airing live at 8 p.m. EDT on ABC, with awards in 26 categories to be presented at the Nokia Theatre.
There's no question broadcast networks will be squirming: Five out of six best drama series slots were claimed by cable shows, both premium and basic, with the sixth going to PBS' "Downton Abbey." On the comedy side, HBO's "Girls," "Veep" and "Curb Your Enthusiasm" made big inroads.
For the elegantly soapy "Downton Abbey," the question is whether a switch from the miniseries category to drama series competition will spell doom for the chances of Maggie Smith, a winner last year, and other cast members including Michelle Dockery.
"Girls," HBO's tough, 21st-century spin on "Sex and the City," and its creator-star Lena Dunham could prove the evening's sweethearts. The show is up for four awards, including best comedy series.
Its heavyweight competition includes "Modern Family," which could claim its third consecutive best comedy series award.
In the miniseries and TV movie category, crowd-pleaser "Hatfields & McCoys" is up against competitors including "Sherlock: A Scandal in Belgravia" and "Game Change," a dramatization of the John McCain-Sarah Palin 2008 campaign.
But Emmys recognize TV's best, not most popular. While leading nominee "Mad Men" averaged just 2.6 million viewers last season, top-rated show "American Idol" (26 million-plus) isn't even in contention Sunday for best reality-competition program. At least host Ryan Seacrest is, but he faces the formidable Betty White ("Betty White's Off Their Rockers").
Talk show host Kimmel has the chance to burnish his reputation or do a painful David Letterman-style belly flop. He's riding a career wave after adroitly emceeing the White House Correspondents' Association dinner and with ABC's decision to move his late-night show into the thick of competition with Letterman and Jay Leno.
HBO came into the night with a leading 17 creative arts Emmys from a Sept. 15 ceremony honoring technical and other achievements. CBS was second with 13, followed by PBS with 11. Discovery received six awards, NBC got five and ABC and the Cartoon Network won four each. Fox received two trophies.
Emmy has to prove herself a winner with the audience. After rebounding somewhat to 13.5 million viewers in 2010 after an all-time low in 2008 of 12.3 million, last year's show drew 12.4 million viewers airing on Fox. The ceremony rotates annually among the four major networks.