Real-Life 'Something About Mary'? Obsessed Cameron Diaz Fan Goes After A-Rod at Game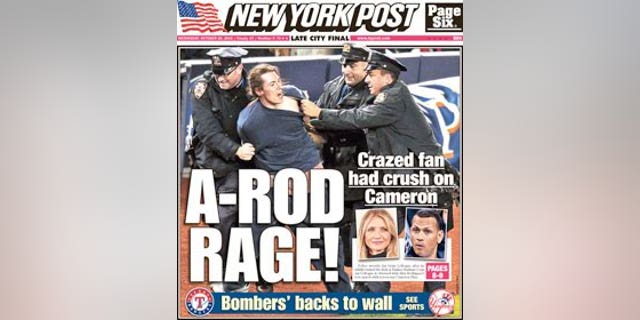 The man who ran onto the field at Yankee Stadium Monday wanted to confront A-Rod out of crazed jealousy over the star infielder's romantic relationship with Cameron Diaz, police sources told The Post last night.
Grim LeRogue, who legally changed his name from Joe Rogan, was carrying five pictures when he made his mad dash -- including one of Rodriguez with an X scrawled across his face and a gun pointed at his head.
An apparent threat was scribbled across the picture: "You have to go bud, you've ruined too many of our white queens."
LeRogue, who was tackled by security just a few feet from the stands, apparently is in love with the "There's Something About Mary" star.
He also carried a picture of Diaz with the message: "We will be together soon," the police sources added.
LeRogue, who has a record of prior arrests for assault and burglary, did not have any weapon on him when he pulled his bizarre stunt in the top of the fifth inning of Game 3 of the American League Championship Series against Texas.
"It was crazy. The guy ran on the field but security was on him right away," said Jon Rosen, 14, from Shore Hills, NJ, who was at the game with his dad.
"He really fought them hard. He wouldn't stop kicking. He wouldn't give up."
LeRogue, 33, of The Bronx, also has a soft spot for Osama bin Laden.
A picture he carried of the al Qaeda head bore the inscription, "I will serve you," and described the terrorist as his "master."